I can only import video but not audio of AVI file into Sony Vegas Pro 19, any easy solution to fix the AVI to Sony Vegas Pro importing issue?
Well, the problem is mainly due to that Windows didn't come with the codecs that were used for those particular .AVI files(AVI is just a wrapper for a large variety of codecs.)… That's why Sony Vegas Pro won't open AVI videos.
Here are 2 solutions for you:
Method 1 – Install Sony Vegas AVI Codec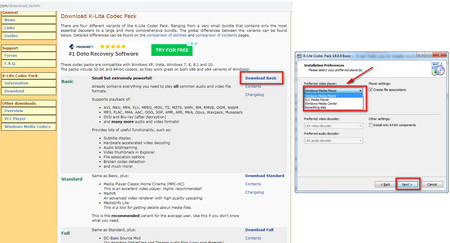 Downloading the missing codec can solve Sony Vegas AVI won't import issue. If you're not sure which codec is missing, just install the codec pack directly, such as k-Lite codec pack.
Step 1: To download and install the K-Lite codec pack, the first step is to visit the official website: https://www.codecguide.com/download_kl.htm
Step 2: You will see a downloaded interface. There are four modes to choose from: Basic, Standard, Full, Mega. If you have no other needs, just download Basic version.
Step 3: Install the codec pack step by step according to the system prompts. The first step is to select Normal mode as your installation mode. Next you need to choose Window Media Player. Just click Next button to continue to install. Finally, click Install button to start the installation. After the installation is completed, you need to click the Finish button to exit Setup. Now you can edit your AVI file easily.
Method 2 – Convert AVI videos to Vegas Pro compatible format
In order to edit AVI videos in Sony Vegas, you need to convert AVI videos to Vegas Pro compatible format first before transferring the files to Sony Vegas. Actually, it's not as difficult as you imagine. What's need is a just a common video converter like DumboFab Video Converter, which supports creating high quality WMV or MPEG-2 codec to seamlessly fit Sony Vegas Pro, no matter what's the format of your source video files.
Tutorial: How to Transcode AVI to Vegas Pro for Smooth Editing
Step 1. Open DumboFab Video Converter, you can directly drag and drop source .avi files, or click Add Video button on the toolbar to load AVI video.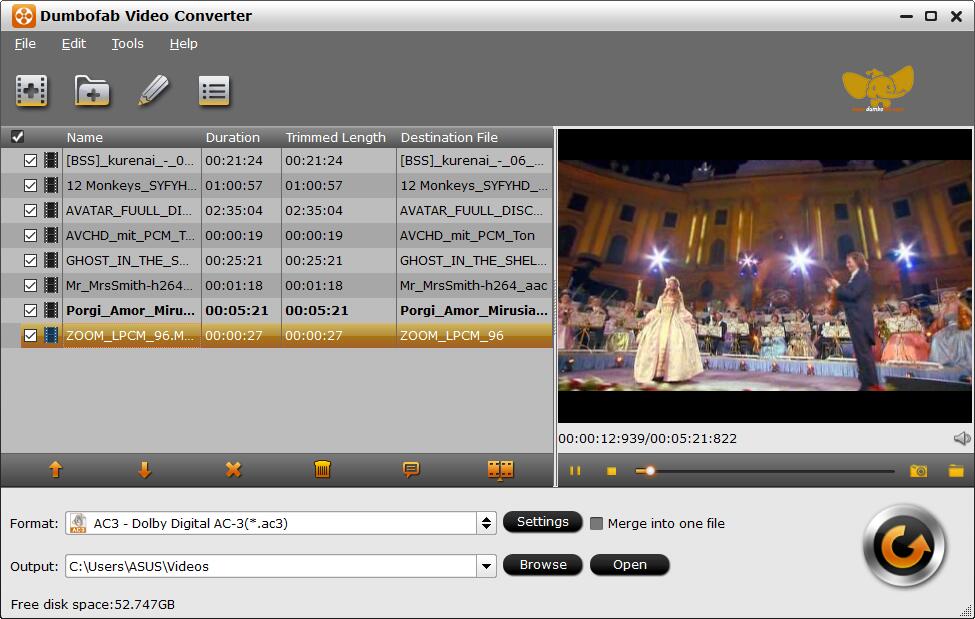 Step 2. Click Format pull down list, move mouse cursor to Editing Software and select MPEG-2 (*.mpg) or DNxHD (*.mov) as the output format.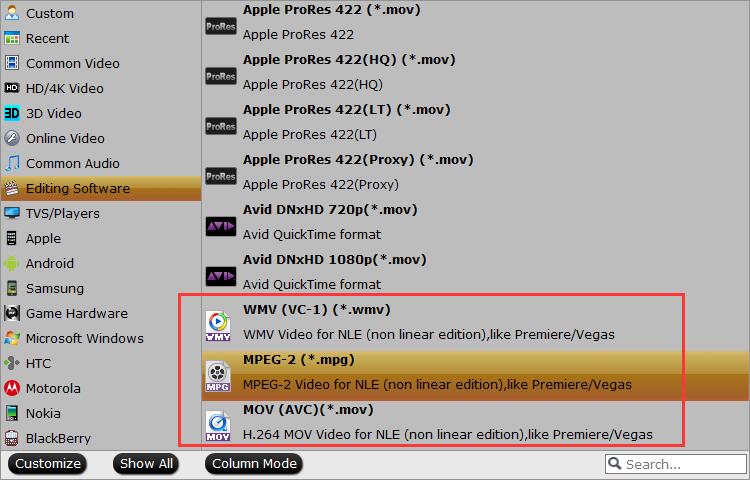 Step 3. Hit Convert button in the lower right corner and the conversion will begin in no time.
After the conversion is complete, get the resulted files via clicking the Open button and then you can import the result files to Sony Vegas Pro without any trouble.
With DumboFab Video Converter, you will never be bothered by the process of converting AVI to Sony Vegas. It's that easy to solve "Sony Vegas won't import AVI" issue as well as "Sony Vegas AVI no video" issue.