None of my home videos play in Plex, which are simply just videos in .mp4 from my android phone recorded and put into a video folder. Sound plays, but no sound plays. All my movies and shows play no problem at original quality. Any suggestion for me to play my .mp4 files on Plex?
MP4 is one of the Plex's supported formats. But sometimes you might encounter situations like Plex not recognizing MP4 or Plex not playing MP4.
Causes and Solutions to Plex Not Detecting MP4
Cause 1. The most likely cause of your Plex not recognizing MP4 is that you have inappropriately named your media file.
Plex has standard naming conventions for both the movie and TV series. For movies, the basic naming convention should be like this: MovieName (release year).ext → e.g. Avatar (2009).mkv; And the TV series/shows should be named in the following order: Season-based: ShowName – SXXEXX – Optional_Info.ext → e.g. The Flash – s01e01.mp4, Time-based: ShowName – YYYY-MM-DD – Optional_Info.ext → e.g. The Colbert Report – 2011-11-15.avi.
*.ext means the file extension, such as .mp4, .mkv, etc.
*For TV series, it is suggested to name the season and episode as s01e01 instead of s1e1.
Cause 2. Another possible cause might come from the confusing metadata of the MP4 files.
MP4 carries metadata like the title, tags, genre, publisher, etc. of the content. If the metadata information is incomplete or contradictory to the file name, the Plex Media Server will misidentify or not recognize the file.
What to do? First, check whether your media files are named in the right way and correct it if there's something wrong. If necessary, edit the metadata of your MP4 files by right-clicking on the file → Properties → Details.
Then work the Plex Dance to remove all cached metadata and XML data for the relevant library. The specific steps:
1. Move all the media files out of the library source folder
2. Click the Actions (three-dot) of the relevant library → Scan Library Files to detect changes
3. Click the Actions (three-dot) of the relevant library → Manage Library → Empty Trash
4. Go to the server, click on More Actions (three-dot) → Manage Server → Clean Bundles
5. Double-check the file names and move files back to the source folder
6. Click the Actions (three-dot) of the relevant library → Scan Library Files to update
An 100% Workable Way to Play MP4 on Plex with Best Quality
If your MP4 video doesn't meet the above requirements, you can use a third-party program to transcode it in advance. This way Plex will not transcode it. DumboFab Video Converter is a nice option for transcoding Plex unrecognized MP4 files. It allows you to convert the incompatible MP4 files to Plex highly compatible MP4 format in HEVC, H.264 with fast encoding speed and zero quality loss, as well as burn external subtitles to video easily. Besides, with this video converter, you can also convert various common formats to MP4, MOV, AVI, WMV, VP9, and more with 420+ optimized profiles, adjust video parameters like resolution, frame rate, bit rate etc., trim video length, crop video frame size and more.
How to Transcode Plex Unplayable MP4 files with DumboFab Video Converter
Step 1. Launch DumboFab Video Converter on your PC or Mac, click Add Video button to load your source Plex incompatible MP4 files.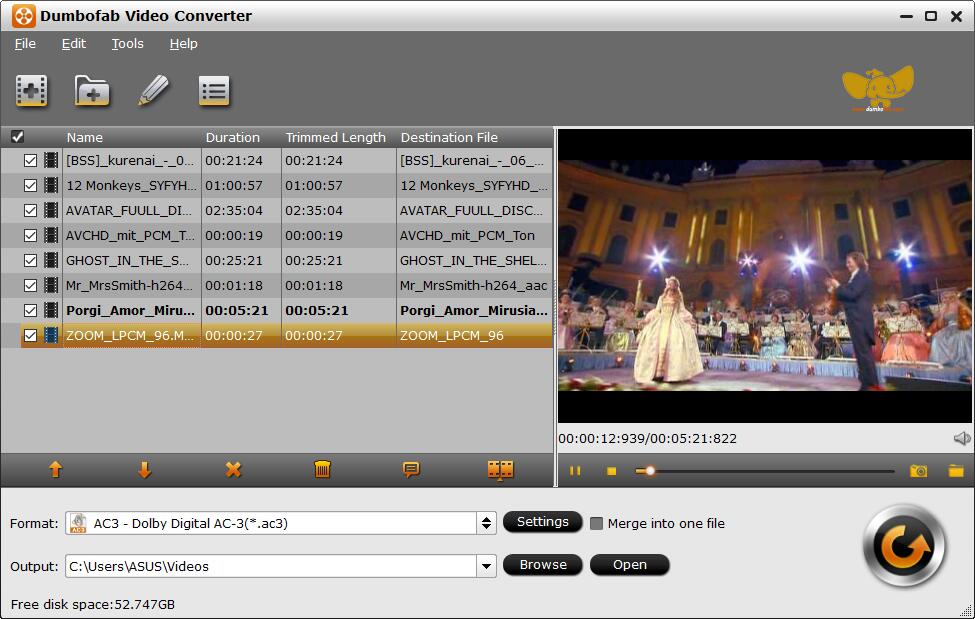 Step 2. Click Profile bar and move mouse cursor to Common Video category and select MP4 (h264+aac) as output format. Besides MP4, there are many other format encoded with H.264, like MOV, M4V, FLV, MKV etc. And profiles encoded with other codecs like HEVC, VP9 or device profiles liuke iPhone, iPad, Xbox, PS4, Android phones can also be your choice.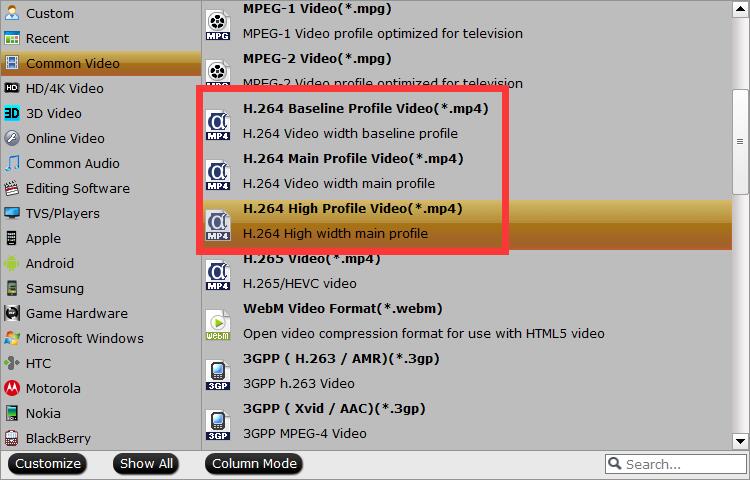 Optional Steps: DumboFab Video Converter allows you to change container and codec format, adjust resolution, bit rate, frame rate, and more. You can click Settings button beside the profile and enter into the parameter settings page. A slew of other variables such the video/audio codecs, pixel dimensions, frame rate, bit rate, audio sampel rate, etc. will help convert Plex unrecognized MP4 files to smaller H.264 MP4 file.
Please note: Adjusting these variables have some effect on the re-encoded video quality. Remember the file size and video quality is based more on bitrate than resolution which means bitrate higher results in big file size, and lower visible quality loss.
Step 3. After everything is OK, hit the Convert button on the main interface to start converting MP4 to H.264 files or any other format that is compatible with Plex.
That's all for how to fix the Plex MP4 related issues. If you have any other doubts, please feel free to reach me at any time. Thanks for reading!