Is there any way to upload my DVD collection to a personal cloud so I can download them (and maybe stream them) somehow?
As quotated above, you may want to upload DVD Cloud storage so that you can be able to access to your file library through Internet on various platforms anywhere. Here is how to.
To save DVD libraray to Cloud whether Dropbox, Google Drive, or Amazon Cloud, the proper solution is to rip DVDs to cloud-friendly format , using whatever utilities are available for your operating system. Generally mp4 container format, H.264 video codec, and AAC audio or something similar. 
Get an Easy-to-use Tool to Put DVD Library to Cloud for Backup Purpose Now!
DumboFab DVD Ripper will be your best choice. This software is available to cope with both home-made and store-bought DVD discs without hassle. Its features include but are not limited to:
• Transcode DVD to MP4 (H.264/HEVC), MOV, AVI, MKV etc. for saving on cloud, hard drive, or playing on PC, HDTV, phone, tablet, etc.
• Aadjust resolution, bit rate, codec, etc to produce optimal file size to reduce the bandwidth consumption and save DVD to cloud uploading time. Specifically, the ripped file is 1GB-1.4GB for a full movie, a 80% space saving. Plus, there're 350+ ready profiles for AVI, WMV, MOV, iPhone, iPad, Android.
• Amazing fast speed to finish DVD ripping with the support for GPU hardware acceleration.
• Conquer all types of DVDs, from new discs, 99-title, slightly damaged, Japanese, regional, workout to non-standard DVDs.
Steps to Rip a DVD to Cloud Storage Device (Network Disk) with DumboFab DVD Ripper?
Step 1. Load source DVD
Input the DVD disc to DVD-ROM. Launch DumboFab DVD Ripper and click the Load DVD button to import the original DVDs you want to put into cloud storage.
Step 2. Choose MP4 as output file
From Fomrat drop-down list, you're recommended to choose H.264 encoded MP4 from Common Video category as the output format because MP4 is is the most popular video format for almost all devices and media players.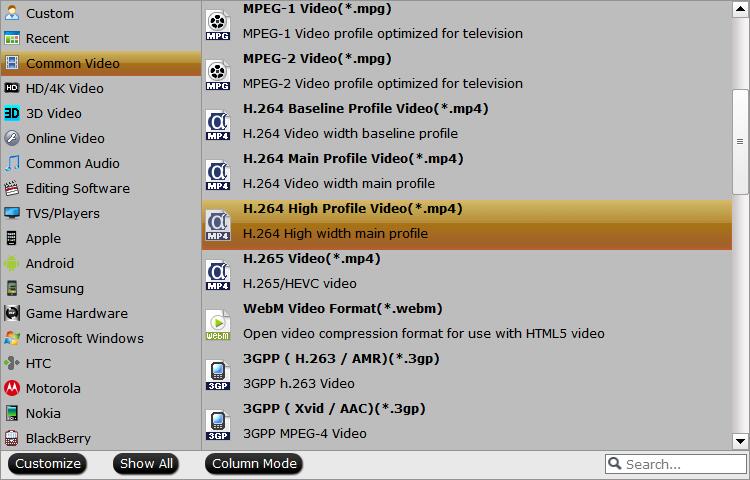 Tip: For general uses, MP4 in "General Profiles" is recommended, as it strikes the best balance between file size and output quality. Generally, a ripped movie is around 1-1.4GB in size, 80% smaller than the original DVD movie, and to the naked eyes, it's highly unlikely to distinguish the difference between the original movie and the re-encoded video, thanks to its unique hardware acceleration and the high quality engine.
Step 3. Get ripping started
Hit the Convert button to rip DVD for Cloud storage at lightning speed with best quality.
How to Put the Converted DVD Videos to Cloud Storage Device?
Once being converted to digital files, your DVD rips can be transferred to the cloud service, and streamed later for different uses.The steps of uploading DVD movies to Amazon Cloud, OneDrive, iCloud, Box, Google Drive etc. go the similar with Dropbox. Just follow the on-screen wizard to save dvd digital copies to your favorite cloud service.
1. Dropbox
Step 1: Navigate to Dropbox site and log in your account.
Step 2: Click the "Upload files" button. Then you can find a window pop up, click "Choose Files".
Step 3: Choose the converted DVD files and click "Open" to upload to the Dropbox.
Note: The total movie size should be less than 50GB if you upload the movies through your web browser. In another word, you can just upload around 30-40 DVD rips to dropbox.com at a time.
2. Google Drive
Step 1: Navigate to drive.google.com and log in your account.
Step 2: Click the + New button and click File upload or Folder upload if you are going to upload the whole rips.
Step 3: Choose the converted DVD files and click "Open" to upload to the Dropbox. There isn't any daily or monthly upload limit. And the maximum size per file is large and won't pose any problem at all.