Vudu, Walmart's on-demand video streaming service, will now let people "convert" DVD and Blu-ray Disc collections into digital copies which they can then watch on hundreds of different internet-connected devices by using their smartphones (Both Android and iOS are supported.). The aim for Vudu Disc to Digital is to provide a convenient way for consumers to upgrade their physical movie collections to digital. Whereas, when you turn to Vudu, you should know Vudu Disc to Digital limits first, as there are lots of users have the doubt in mind "Is there a limit on disc to digital on Vudu?".
Vudu Disc to Digital Limits You Should Know:
Walmart-owned Vudu's Disc to Digital feature will scan a barcode and add a digital version of the DVD or Blu-ray to your cloud library for a few bucks. You can then stream those movies on Vudu's apps. Or you could combine them with movies you've purchased on other digital platforms via the Movies Anywhere service.
Must be physically located: Customers must be physically located at their home billing address in order for the disc-to-digital conversion to work from their phones. That's an anti-fraud measure designed to ensure someone actually owns the DVD – and is not, say, running willy-nilly through the aisles of a Walmart store scanning bar codes. Vudu's app uses GPS to verify a user's location and make sure it matches the address on file.
Vudu D2D Mobile 100 Limit: The mobile-conversion feature will be capped at 100 titles per year for each account.
It isn't free: The Vudu Disc to Digital feature isn't free, although Vudu users will receive one complimentary first-time mobile conversion. Customers can convert a DVD to standard-definition digital or a Blu-ray disc to HD digital for $2 each. To upgrade DVDs to HD, Vudu will charge $5 per title.
Supported movie titles are limited: Disney is not participating in the Vudu Mobile Disc-to-Digital program. The feature is available for close to 8,000 movies from Lionsgate, Paramount Home Media Distribution, Sony Pictures Home Entertainment, 20th Century Fox Home Entertainment, Universal Pictures Home Entertainment and Warner Bros. Home Entertainment. Vudu says it will add more titles in the coming months.
Limited to US Only: Unfortunately, Vudu is a service available for users in the US and Mexico only. You can't convert DVD via the Vudu disc to digital service, or stream, purchase from the platform outside the country. However, you can use some block the Vudu region restrictions by creating an IP address in the two countries with a good VPN.
Don't Actually Own the Digital Movie: You should know that pay $2-$5 is sort of buying an extra license that allows you to view the digital copy of your DVD movie in the cloud. Unlike the digital videos converted with DVD rippers, you can't to local devices to carry when there is no internet or use the Vudu digital copies freely. Your digital movie collection depends on the longevity of the Vudu, and there is no guarantee that the video service won't die off someday, considering the close of UltraViolet.
How to Convert Your Discs to Digital Files Using Vudu's Disc to Digital
Vudu will let you convert 100 discs per year, and it offers three pricing options:
Blu-ray to HDX (Vudu's 1080p, high-bitrate option) for $2
DVD to SD for $2
DVD to HDX for $5
Spending $2 to convert a Blu-ray to an HD stream is a good option, but $5 for DVD to HD is less compelling given that some digital movies cost $5 or less on Google Play, Amazon, and iTunes. Do some price comparison before spending that $5.
Disc to Digital is supported on Android and iOS, though the conversion process differs slightly for each platform. On Android, download the Vudu mobile app, sign in or create an account, and select Disc to Digital. On iOS, navigate to vudu.com/disc on your mobile browser and sign in or create an account.
On both platforms, the Vudu app then requests permission to access your location data, followed by your credit card data. (Why? To avoid you scanning any old DVD case you find on the street, at a friend's house, or in stores, your billing address needs to match your phone's GPS location when you're scanning DVDs.)
Follow the onscreen prompts, and select your movie-quality preference. Following checkout, the movies will be available in your Vudu account.
Note that not all movies can be converted. To check, type the name of the movie in question into the search box on Vudu.com. In our experience, 75 percent of the movies we've tried have worked.
Best Alternatives to Convert Vudu Disc to Digital without Limits
As you see, there are lots of limits of Vudu Disc to Digital. Since you've invested a lot into creating digital libraries, why not seek for a more cost-efficient way? A professional DVD ripping tool like DumboFab DVD Ripper is the only way to get rid of the limits on Vudu disc to digital conversion.
DumboFab DVD Ripper can help users convert DVD movies and TV shows released by Disney, Sony, Paramount, and any other studios. Any old, scratched, new, and homemade discs are supported. It supports removing all DVD copy-protections including DVD CSS, region code, RCE, Sony ArccOS, UOPs, Disney X-project DRM, etc., and constantly update to support newest DVDs, which will remove Vudu region limits, M2D 100 title limits, internet requirements, etc. It converts DVD collections to digital MP4, H.264, HEVC, ISO, MKV, MOV, AVI, etc. with all subtitles, tracks, extras, native resolution in ultra fast speed while keeping original quality.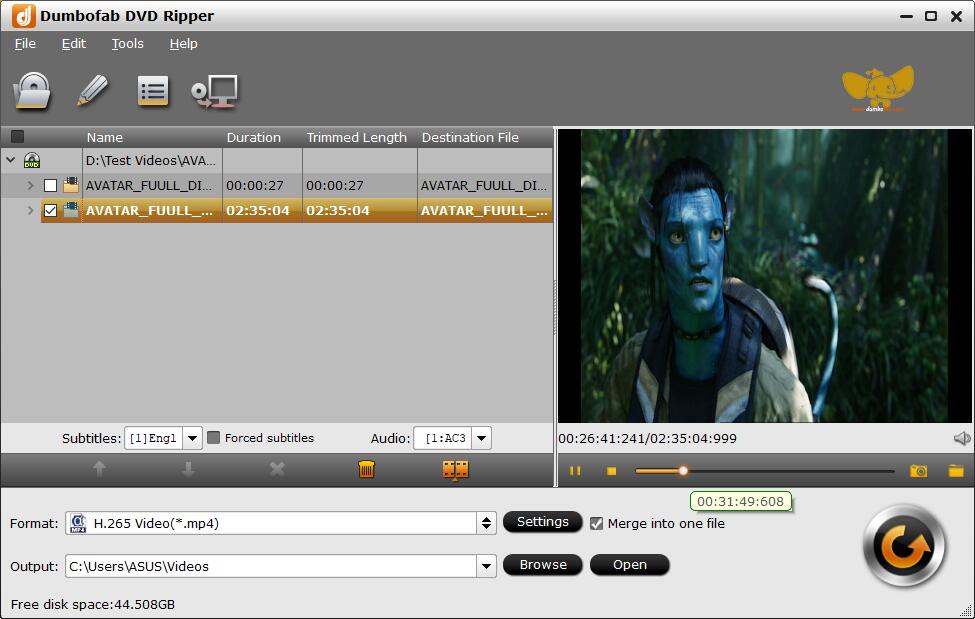 Step 1. Launch DumboFab DVD Ripper and click the Load DVD button to import the original DVDs you want to convert. You can also convert ISO image and DVD TS_folder.
Step 2. From "Format" drop-down list, you can select the output video format for the ripping DVD movie. Numerous video/audio formats and 400+ optimized device profiles are provided.
Step 3. Hit Convert to start the DVD to digital video conversion.