Hello! I recently purchased a GH5, and I've read in several places that shooting in 4k and downscaling to 1080p will give more color depth, so I want to start doing this. My question is, how would I do this? Should I edit everything in 4k and then render out at 1080p, or is there a better way to do it?
The cinema quality 4K is now on an increasing number of smartphones, tablets, laptops and TV sets and the latest action cameras and DSLRs like Canon EOS R5, Panasonic Lumix S5, Sony A7S III, Panasonic Lumix G9, etc can shoot 4K now. And why wouldn't they? 4K, like its name, displays four times the regular quality we're used to, which makes for a great viewing experience, particularly on 50+ inch screens. While on one hand is its enticing appeal, on the other hand weighing it down are a few disadvantages: it requires more bandwidth than most of us can afford and it takes up a lot of storage space. Moreover, on a lot of devices that a regular person owns and most frequently uses, you can't even tell the difference between 4k and anything higher than the standard HD quality. Some guys would hunt for a way to downscale 4K to 1080P easily.
Why You Should Downscale 4K to 1080P
Though 4K image quality is superior to 1080p, you may sometimes still need to downscale 4K to 1080p to get a much compressed video size for easy video streaming, playing and storing. This is because the huge size and high bit rate of 4K videos make it challenging to play on many programs and media devices. Not only should your video player software be compatible with UHD, but your hardware configuration (like your graphics card and processor) should be good enough to crunch the data of 4K. Or you will end up with stuttering, choppy, jerky and laggy video playback. So, for now, for the sake of our sanity and smooth playback, we need to go with lesser pixels, aka 1080p.
1. To achieve best 4K video viewing experience, you need to make sure the video playing devices also support 4K resolution. Whether the resolution of device is higher or lower than 4K pixels, you'll not get the exact optimal 4K video playing effect. Some devices only support 1080p or lower resolution.
2. Streaming 4K (HEVC/H.264) videos via network consumes much bandwidth. Low bandwidth cannot bear the 4K video streaming.
3. Storing 4K videos consumes much disk space. 1 minute 4K 30fps video recorded by iOS 11 iPhone is 170MB (iOS 10: 350MB). 1 minute 4K 30fps video captured by Gopro Hero5/4 is about 450MB (Gopro HERO6 support HEVC codec, it can reduce the video size by half). To be more specific, a 32GB iOS 11 iPhone X/8/7/6S, a 64GB Samsung Galaxy S8 or a 64GB Gopro HERO5 can only store one 120 minutes 4K movie.
4. Decoding and playing 4K videos use much computer CPU power and turn computer extremely slow unless the software can make use of computer hardware acceleration like Intel QSV, Nvidia CUDA/NVENC, AMD to shift the huge workload from CPU to GPU and accelerate the video processing speed.
How to Downscale 4K video file to 1080P
Method 1. Fastest Way to Compress 4K to 1080p with DumboFab Video Converter
– The Best 4K to 1080p Downscaler/Compressor with Hardware Acceleration
• Fast compress 4K to 1080p, 720p, etc. with best output quality with GPU hardware acceleration supported.
• Convert 4K HEVC to H.264; compress 4K H.264 to HEVC. Convert almost any video to MP4 or any other format.
• Equipped with advanced compression kernel and higher coding-efficient codecs, you can easily reduce 4K file size by up to 90% with quality unaffected visually.
DumboFab Video Converter is the best 4K video converter out there that can downsize 4K videos with little effort. It embeds optimized hardware acceleration tech to allow users to perfectly utilize computer supported Intel QSV, NVIDIA CUDA/NVENC to maximize the video decoding, processing and encoding speed. This plays an important role especially in processing 4K HEVC/H.264 videos and offers smoothest and fastest speed in downscaling 4K to 1080p or converting/compressing any other large video files. Just download it, you are only a few easy steps away from downscaling 4K video files to 1080p.
Step 1. Load source 4K videos
Launch DumboFab Video Converter, then drag and drop your 4K footage to it. You can also click "Add Video" button to load your 4K videos.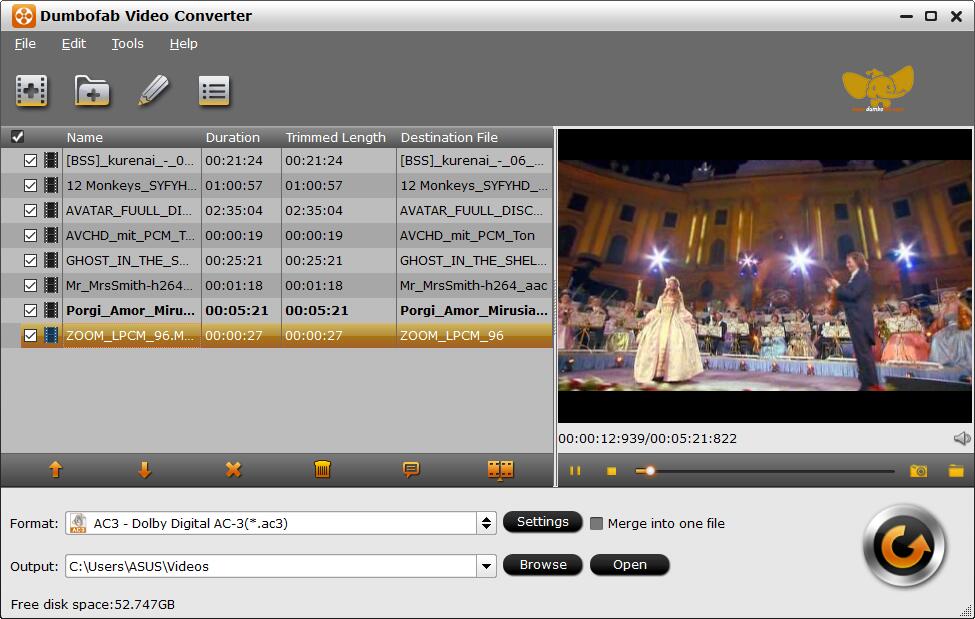 Step 2. Select output format
Click Format bar and select a proper format as the output format. There are MP4, MOV, AVI, WMV, etc. available for your choice. If you want to convert 4K footage to editing in Final Cut Pro, Premiere Pro, Avid or iMovie, there are professional encoders like ProRes, MPEG-2, DNxHD, Apple Intermediate Codec, etc. in the "Editing Software" category.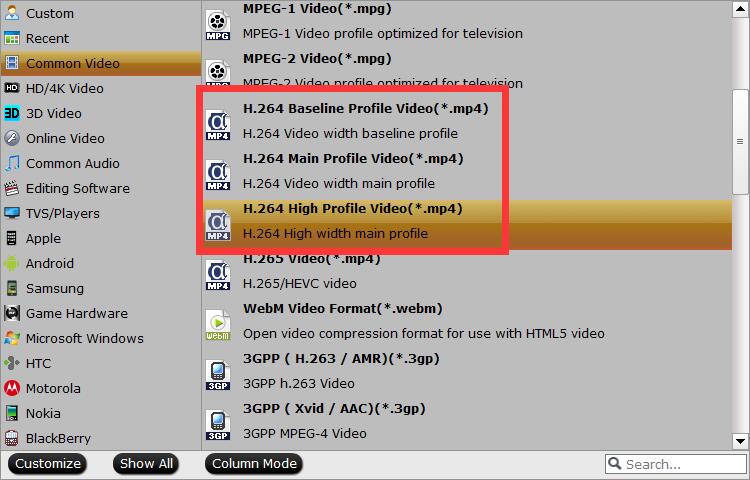 Step 3. Set 1080p resolution
Click "Settings" button to customize these settings. Please set the "Size(pix)" as 1920*1080. Ideally, leave other audio and video options as it is. Once done, Click OK to apply the settings.
Step 4. Start to downscale 4K to 1080p
Once everything is set how you want it, click the big Convert button to begin downscaling your 4K video to 1080p. With hardware acceleration, the conversion will be fast.
Method 2. Free Way to Compress 4K to 1080P with VLC Media Player
Besides a video player, VLC can also be used to downscale 4K footages to 1080P clips. As open-source software, it is totally free without any limitation or watermarks.
It works great for most videos as well as audios with a wide range of supported formats like MPEG-2, DivX, H.264, MKV, WebM, and WMV. A headache problem is that VLC Media Player lacks support for H265, also known as HEVC, and VP9 codec. But most 4K videos are compressed by H.265 or VP9. Besides, it doesn't support hardware acceleration, so it has weak performance in speed. Despite the cons, it is still an outstanding free converter.
Take a look at how to lower the resolution of 4K video using VLC Media Player.
Step 1: Click Media > Convert/Save > Add to import the video and Click Convert.
Step 2: Choose 1080P as the profile setting.
Step 3: Click Browse to choose the output folder position.
Step 4: Click Start to convert.
Final Thoughts
We introduced two ways for you to easily downscale a 4K video to 1080P. You can choose either of the applications according to your own needs. But in our opinion, for the 4K to 1080P downscaling task, DumboFab Video Converter is definitely a better choice than VLC.