Bought a DVD Player with a USB socket on the front. According to the box, it plays MP4 files.

I tried it and it on a .mp4 file, but it won't play it, although it does play plain old mpeg files. Any ideas?
Some DVD players should play files by default. The emphasis here is on the word 'should' because sometimes it flat-out refuses and throws up an error. To play MP4 on DVD players without issues, the best solution is to convert MP4 to a DVD player more friendly format. Below is the best solution to help you to solve DVD player play MP4 problems.
Part 1. Why We Can't Play MP4 on DVD Player
1. Majority of DVD players only accept MPEG-2 in a standard VOB format, and very few of them are compatible with MPEG-4 videos.
2. All standard DVD accept videos that conform to a certain resolution and BVOP settings. For instance, a majority of DVD players limit import to a resolution of 720 by 756 or 720 by 480. While, if you got some MP4 files with greater than this, your DVD players will not have the capacity to play it.
Newer models of DVD players can be able to play AVI files on one and only one condition, the AVI file has to be further encoded with another codec such as Xvid, Divx, WMV and MPEG-1 just to name a few. And MP4 wouldn't be supported.
Part 2. Get 2 Solutions to Play MP4 on All Kinds of DVD Players
Solution 1. Convert MP4 to DVD Player More Friendly Format
If you have checked, and it turned out your DVD player is not one of the DVD players that play .mp4 files, then you are gonna have to buy another DVD players that play mp4 files, or, you can convert the MP4 to another format like MPEG-2 or AVI that is compatible with your DVD player.
Download and install DumboFab Video Converter on your computer. This video converter allows you to convert videos from and to MP4, VOB, FLV, MPEG-1, MPEG-2, and 70 more formats. And it offers 30 faster conversion speed without any quality loss. You can just take a trial to directly convert MP4 to DVD player supported format for playing MP4 videos on your DVD players without hassle. The following is just a detailed guide about how to convert MP4 to DVD Player effortlessly.
How to Convert MP4 to DVD Player Highly Compatible Video Files
Step 1: Import source MP4 video files
Launch DumboFab Video Converter, and click "Add" button on the sub-menu to load your source MP4 video files. You can add multiple files at a time an convert them in batch.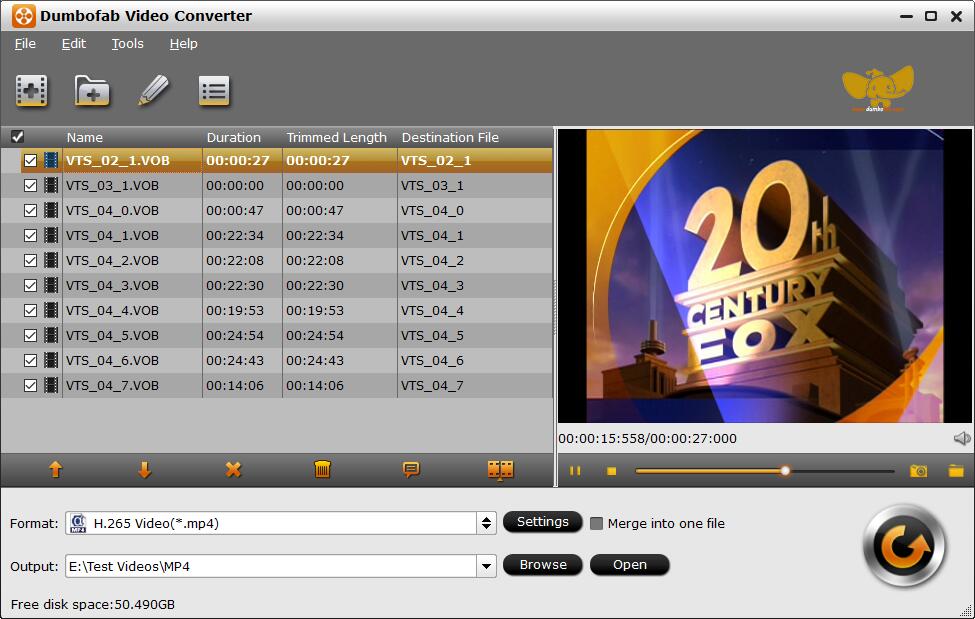 Step 2: Set as output format
From Format drop-down list, you're recommended to choose AVI or MPEG-2 as output format.
Note: If you need, you could click the "Edit" button on the drop-down profile setting box to adjust video and audio parameters like video codec, aspect ratio, frame rate, resolution, audio codec, bit rate, channel, sample rate, etc.
Step 3: Start converting MP4 to DVD player
After setting output directory, click the "Convert" button right below. DumboFab Video Converter would start converting MP4 to DVD player format immediately.
Solution 2: Burn MP4 to a DVD to play on DVD player
Worst case scenario, your DVD player doesn't support digital file at all. In that case, you can opt to burn MP4 files to DVD disc for directly playing on DVD players with the following 3 free DVD Creator.
Tiny Burner: An excellent freeware app that works with CDs, DVDs and Blu-ray discs. The installer also comes with a 32-bit and 64-bit version and will install the appropriate version automatically. Just load your disc into the drive, drag and drop the files you want and click the Burn icon to burn the disc.
StarBurn: A nice full-featured CD/DVD/Blu-ray burning app. It has a nice GUI interface that splits your burning options into audio, video, and data. You can burn images and build ISO images also. Unique features include the ability to erase a disc and to compress audio.
True Burner: It can burn standard, multi-session and bootable CDs, DVDs and Blu-ray discs. It's got a very simple user interface and not a whole lot of settings. It doesn't have a lot of advanced features like ImgBurn, but it gets the job done and it works well.
Final Words
After reading this article you should know if DVD plays MP4 videos. Based on 2 methods introduced above, you should be able to watch MP4 on your DVD player without any issue.