I have a large collection of DVDs. How do I convert DVDs to MP4 on a Mac easily?
To convert DVD to an MP4 video on Mac, a DVD ripping for Mac is required. We know it's hard to find a good DVD to MP4 converter, for Mac users it's even harder. Some DVD ripper takes very long time to rip a DVD, Some may rip really fast but the output MP4 file size is gigantic and the output quality may merely come as 480p. And for most of the commercial movies you have to deal with copy protection.
In this article we test and rated the best DVD to MP4 converters for Mac on the market. We provide the detailed using steps of each app, hope this can help you find the right tool and digitize all you DVD collections easily.
Top 1: Rip DVD to MP4 on Mac with DumboFab DVD Ripper [Best Choice]
To convert DVD to MP4 on Mac, you'll need a DVD ripping tool that can run under macOS. You can find a program on Google, communities or third-party software download sites. There are some free DVD to MP4 converters that are welcomed by users like Handbrake, VLC, DVD Decrypter, etc. They share similar workflows but also produces alike troubles like "It takes too long to rip a full DVD to MP4", or "the ripped MP4 file size is huge" or "the output quality is not as good as the original DVD" or even "come across copy-protected DVD reading and ripping errors".
If you don't want to be held back by slow processing and want to get the fast speed, optimal quality, and small size for the DVD to MP4 conversion, DumboFab DVD Ripper for Mac will be your best choice. It can cope with DVDs of any kind, including the latest Disney movie DVDs. And with just 3 simple steps, you can backup and rip DVD to MP4 (H.264/HEVC) with best balance in speed, quality & size.
As the best DVD to MP4 converter for Mac, DumboFab DVD Ripper can be operated under macOS 12 Monterey, Big Sur, Catalina and lower version. And it has a Windows version compatible with Windows 11, 10, 8.1, 8, 7, etc. Its features include but are not limited to:
● Convert DVD to MP4 as well as other formats such as MKV, HEVC, AVI, WMV, MOV, M4V, MPG, FLV, etc.
● Rip DVD to MP4 for iPhone, iPad, Android, Windows Phone, and other devices with optimized presets.
● Flexibily select the subtitle/audio tracks, add subtitles, crop, trim, and edit the MP4 video.
● Support almost all encryptions on DVDs, incl. Region Codes, CSS, RCE, Disney X-project DRM, etc.;
● Support adjusting the resolution, bitrates, codecs, framerate, etc. of the output MP4 video to reduce the final file size.
● Finish conversion at fast speed, owing to the support for Intel QSV, Nvidia CUDA/NVENC, and AMD hardware acceleration tech.
● 5 minutes to backup a full DVD with original quality with 2 Modes.
[Tutorial] How to Convert DVD to MP4 on Mac
Step 1. Load the source DVD movie
Insert a DVD into your DVD drive, and click the "Load DVD" button. The program will add the DVD to the program and list all the titles. Double-click one of the titles, and you can preview the movie in the Preview window on the right. See the picture below. You can also import ISO files, IFO files or DVD folder for conversion.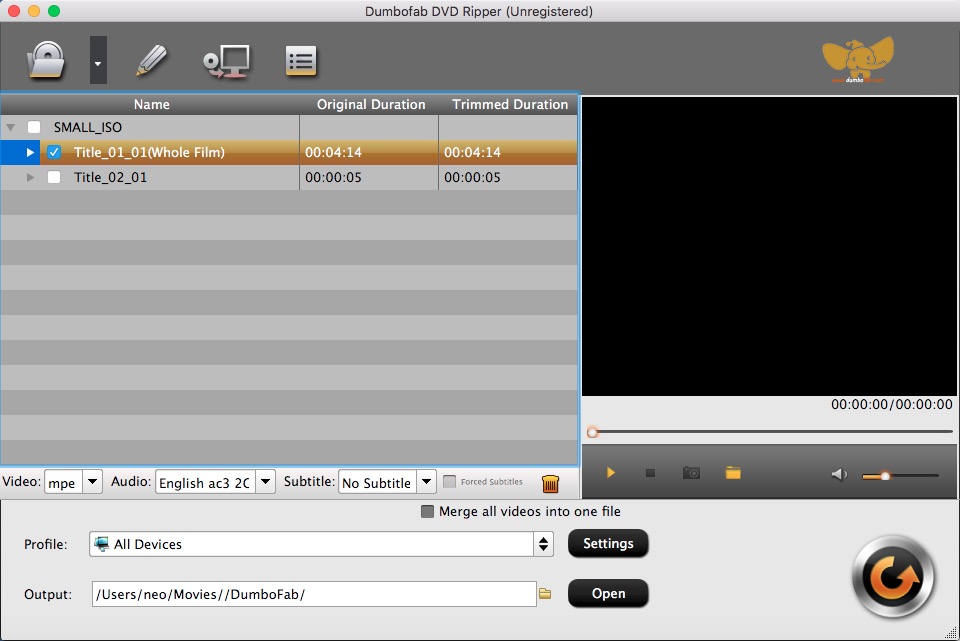 Step 2. Select MP4 as Output
Click Profile bar and select the format you want from the drop-down list. Move your mose cursor to Common Video category and select MP4 (codec: h264+aac) as the output format. If you need to convert a Blu-ray for iPhone, Android device, YouTube, web services, you can also find a profile from the corresponding device category.
Tip: You can also choose preferred subtitle or audio track from the Subtitle or Audio drop-down lists.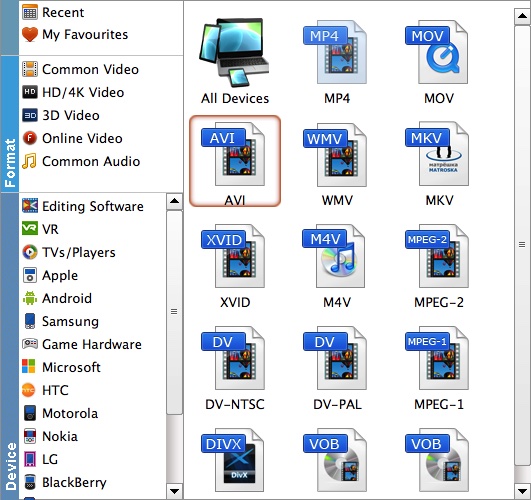 Handy-Tips of Converting DVD to MP4 with Good Balance Between Quality and Size:
1. To get the best possible output quality and smallest file size, convert DVD to HEVC MP4. It has 50% smaller size at the same quality.
2. The default setting works well. Of course, if you want to customize video and audio encoding settings, just click the Settings button to customize these settings.
Recommended DVD to MP4 Video Quality-Size Settings:
1. You're not suggested to adjust the frame rate and aspect ratio, if not necessary.
2. Use the codec H.264 or H.265 and lower the bitrate to a lower level. For example, adjusting the original "medium quality"to bitrates of around "1800-2000" is acceptable without noticeable pixellation.
3. Lower the resolution. Typical DVD videos are 720×480 (NTSC) and 720×540 (PAL). Adjust the resolution to 640×480 won't make any quality difference.
Please note: Adjusting these variables have some effect on the re-encoded video quality. Remember the file size and video quality is based more on bitrate than resolution which means bitrate higher results in big file size, and lower visible quality loss.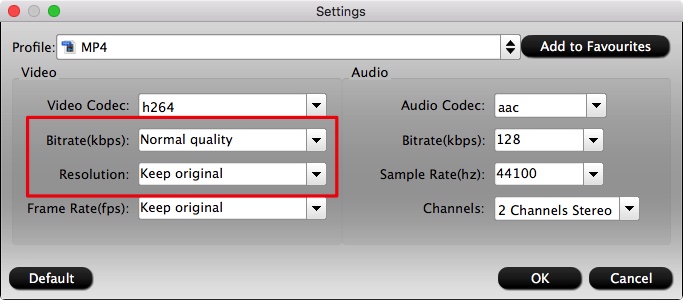 Step 3. Start converting DVD to MP4 on Mac
Check to make sure all the settings are OK and then click the "Convert" button to begin the DVD video to MP4 conversion on your Mac.
After the DVD is converted into MP4 (h.264/mpeg-4 avc/hevc) video, you can freely transfer the MP4 to iPhone, iPad, Android, game consoles, tablets, and upload the MP4 video to your cloud storage, Plex server for streaming with ease.
Top 2: Convert DVD to MP4 Free on Mac with Handbrake
Handbrake is a popular free DVD ripper among users running Windows, Mac, and Linux. With it, you can also convert DVD to MP4 or MKV on Mac. However, HandBrake can't handle copy-protected DVDs on its own. You need to install libdvdcss to help HandBrake recognize encrypted discs. There are advanced options available for precise encoding settings, effects, parameter adjustment, etc, which, though, are something of a learning curve.
After you finish the installation of HandBrake and libdvdcss, you can follow the steps to rip DVD to MP4 on Mac with HandBrake.
To get more details on how to install libdvdcss on Mac, you can refer to this article – How to use Handbrake to rip encrypted DVDs.
Steps on how to rip DVD to MP4 on Mac using Handbrake:
1. Insert a DVD you wish to copy into your Mac. If DVD Player starts up automatically, quit the application.
2. Launch HandBrake, located at Applications.HandBrake will display a dropdown sheet asking which Device should be opened. Select the DVD from the list in the sidebar and then select Open. HandBrake will spend a little time analyzing the DVD you selected. When it's done, it will display the DVD's name as the Source in its main window.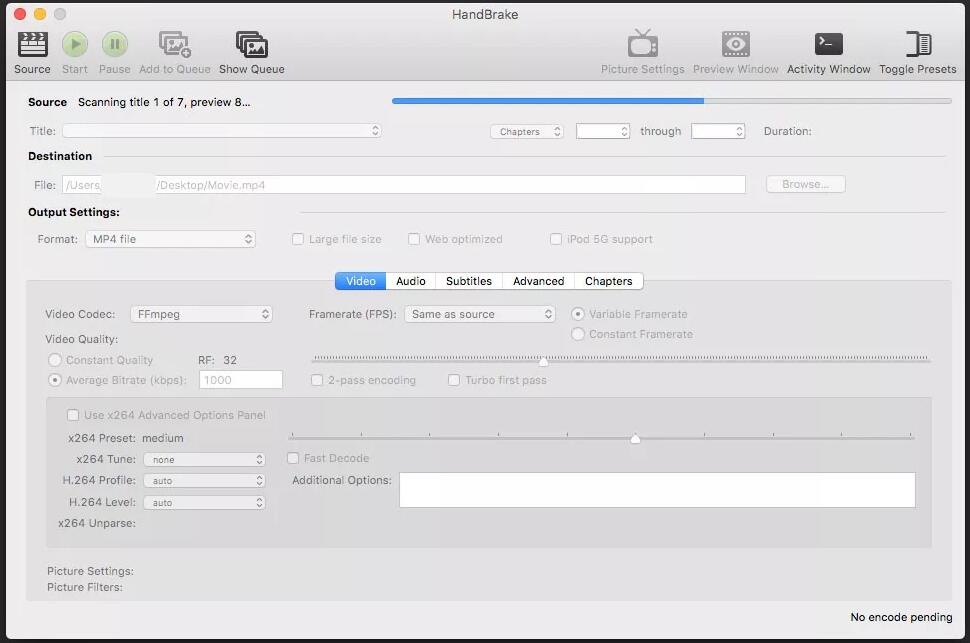 3. Choose the Title to copy. The Title dropdown will be filled in with the DVD's longest title; this is usually the main title for the DVD. HandBrake can only create a copy of a single title on a DVD. HandBrake can only rip a single title at a time. If you want to rip multiple titles off DVD or copy several/all episodes of TV show DVD, you have to process the same work multiple times or create a queue.
Other adjustable options including Angle, Chapters, Seconds and Frames. Seconds is an option used to define the start time and end time of to-be ripped title.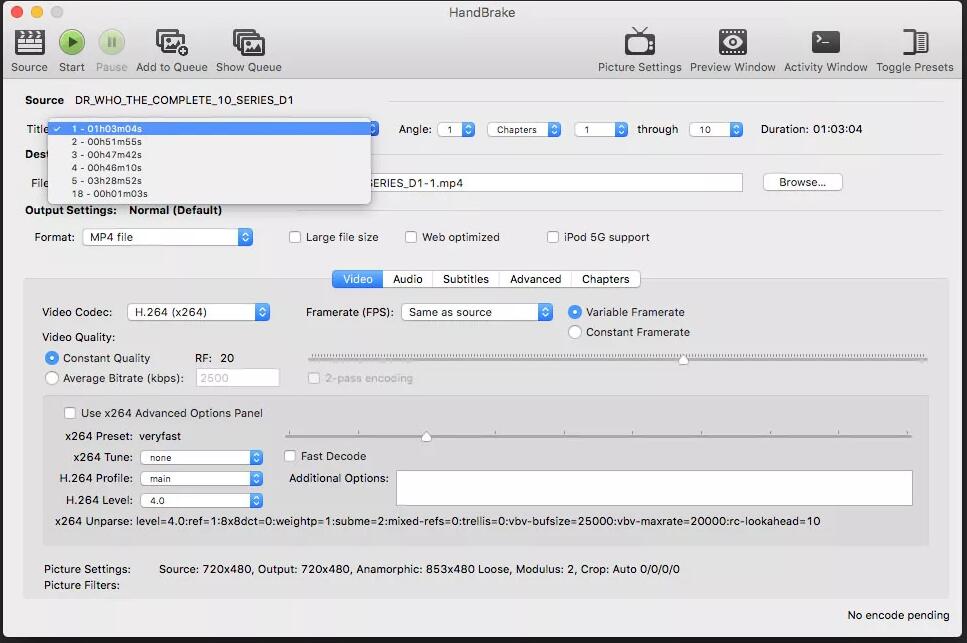 4. Configure MP4 as output. HandBrake DVD ripper empowers you to copy DVD to MP4 (M4V on Mac, same as MP4) or convert DVD to MKV on Mac. In addition, it offers dozens of output presets, grouped under General, Web, Devices, Matroska, and Legacy. You can choose any one at will, or add personalized preset by clicking Save New Preset.
If you know little about picture, filters, video, audio parameters, just keep the default settings untouched and instead focus on Presets only.
Kindly Note: If the file extension is M4V, you can change it to MP4. In fact, you can also keep M4V without no change since M4V is based on MP4 file format.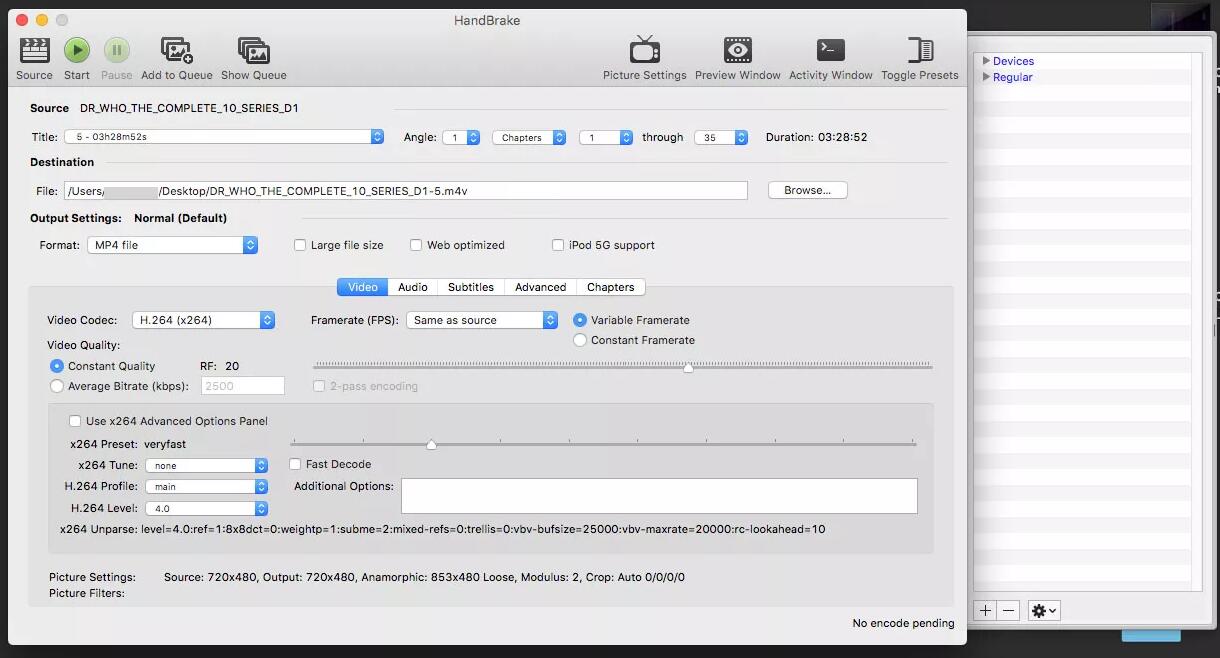 5. Choose a Destination. This is the file that will be created when the copy is made. You can use the suggested file name, or use Browse to select another location to store the destination file and create a new name.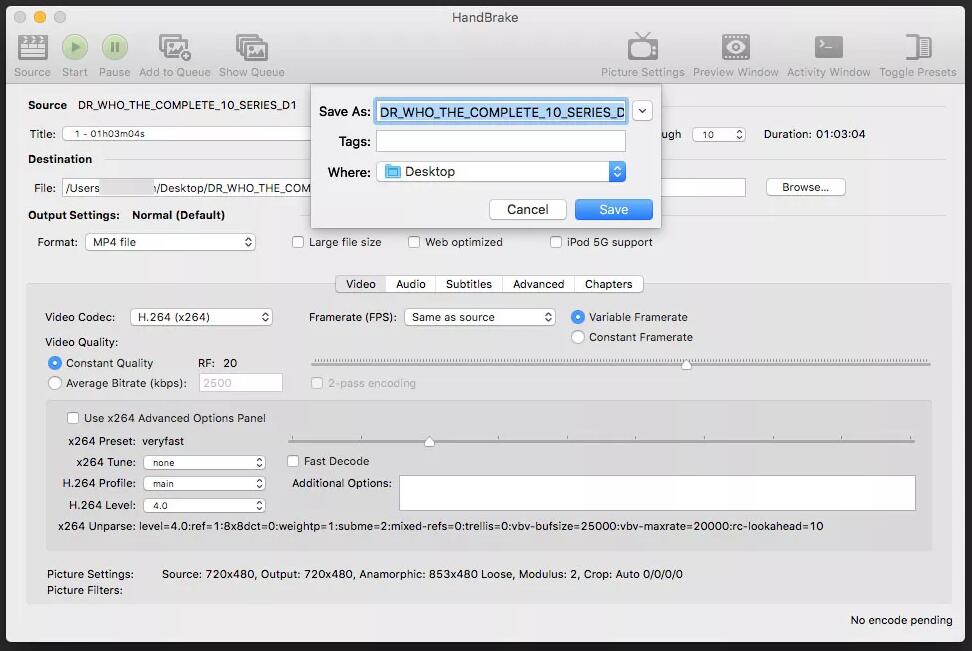 6. If you have nothing to modify, simply click Start button at the top menu bar to start ripping DVD to MP4 with HandBrake. Then you will see a display bar and can estimate the time remaining to complete.
Way 3: Convert DVD to MP4 Free on Mac with VLC
Another simple and straightforward method to convert DVD to MP4 free is by using VLC media player. VLC is a free and open-source player that is portable and works on different platforms. In addition to playing your video files, the player also allows converting your DVD to MP4 as a free DVD converter for Mac. So if you are in search of a method that facilitates simple conversion without any need for downloading separate software, rip DVD with VLC is the right way.
Insert the DVD into your Mac drive before proceeding with the below steps.
Step 1: Open VLC Media Player app on your Mac system. From the drop-down menu at the File tab, choose the Open Disc option.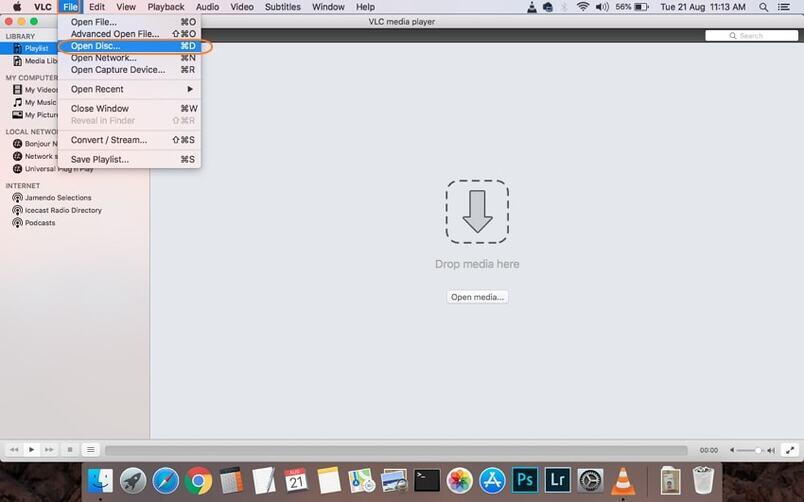 Step 2: A window with your disc information will open. Click the box for Disable DVD menus. At the bottom left corner, check the box for Stream output.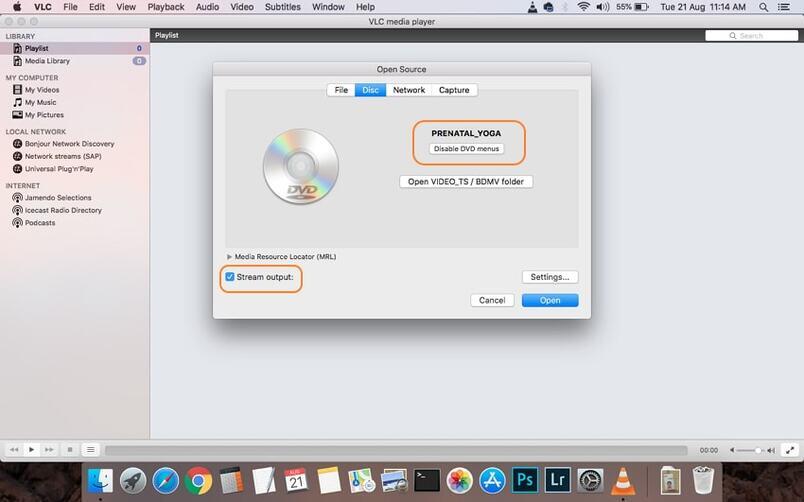 Step 3: Hit the Settings button that will allow you to a new window. Here check the File option to get the ripped disc as a file on your Mac. Hit Browse to select the location where you want to save the converted disc. A pop-up window, choose file name and location at Save As and Where tabs, respectively. Click the Save button to confirm.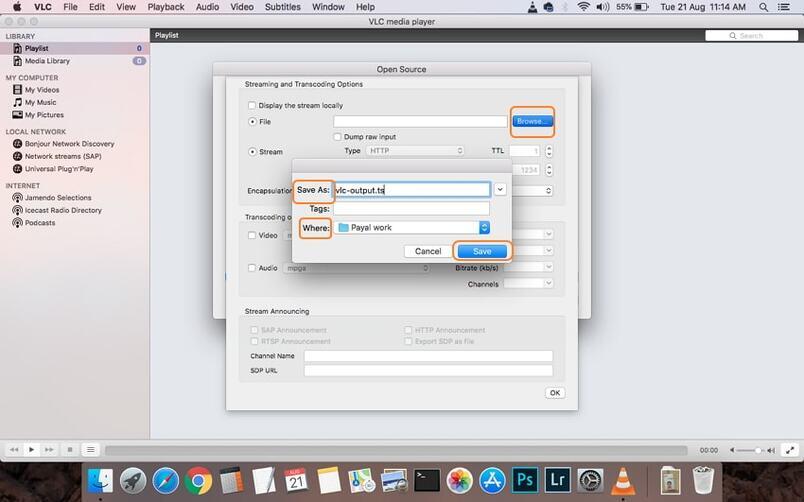 Step 4: Next, Open the drop-down menu at the Encapsulation Method and choose MPEG 4. Make the needed video and audio settings. Click OK to confirm all the settings.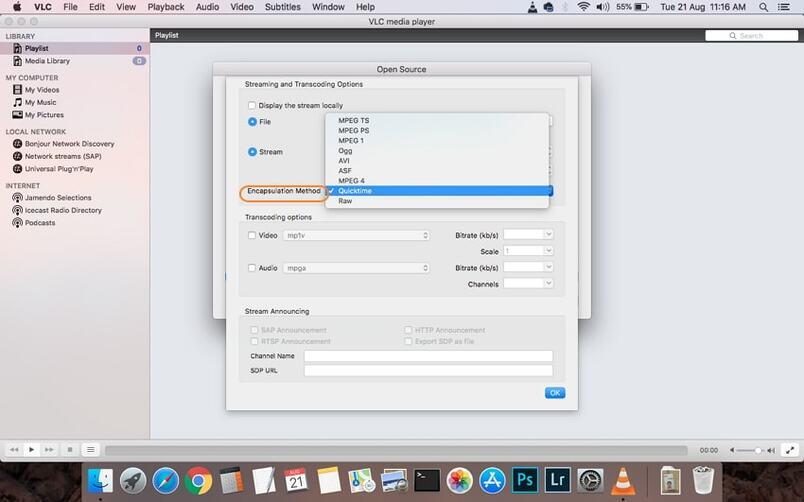 Step 5: Finally, click Open to start to convert DVD to MP4 free with VLC Mac.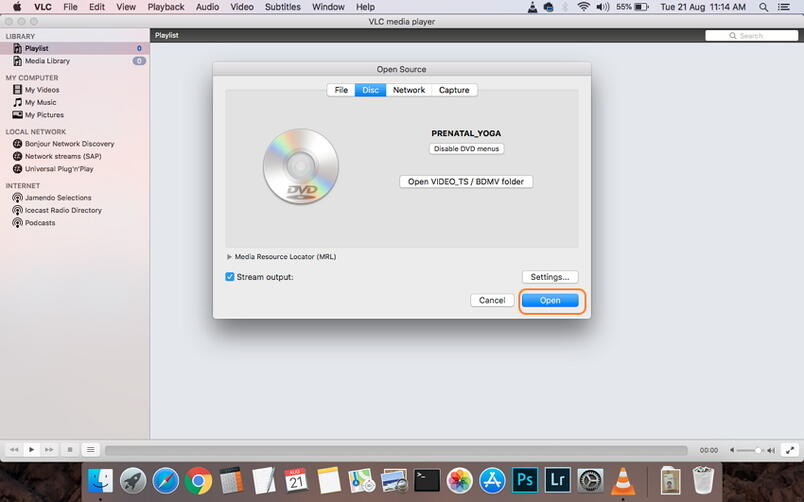 Conclusion: Which Is the Best Software to Convert DVD to MP4 on Mac?
Each DVD converter has its own advantages and disadvantages. DumboFab DVD Ripper for Mac is specially designed to convert DVD, so it features powerful DVD decrypting capability, fast processing speed, and great output quality. HandBrake is a powerful video transcoder with many advanced options, but it cannot handle sources with any kind of copy protection. VLC is a multifunctional tool, but it converts DVDs very slowly. So when it comes to which is the best DVD to MP4 converter for Mac, DumboFab DVD Ripper Mac is the answer. The most professional is the best. You can give it a try!