Blu-ray is a special technology which can not be read and played by most players. You could play back Blu-ray movies on your computer with special Blu-ray media players like VLC Media Player. However, if you want to play Blu-ray movies on a media device or media player that have no native support for Blu-ray media playback, you have to try to convert Blu-ray to AVI or other digital files. Let's learn how to.
Why convert Blu-ray to AVI file?
Blu-ray offers high-definition video and high-resolution audio, providing a superior viewing experience to DVD, although you need a modern home theater to take advantage of it. There're various purposes that could be achieved by converting Blu-ray to AVI files.
Get Blu-ray backup: Every Blu-ray disc costs high and is fragile to get broken or damaged. It could easily get scratched for improper using or even get lost. Converting Blu-ray to AVI file is actually a way to backup Blu-ray movies, through which you could get Blu-ray movie backup on your computer for anytime using, without worrying about disc damage or loss.
Enjoy Blu-ray movies on more devices: Via ripping and converting Blu-ray to AVI file, you could enjoy Blu-ray movies on more AVI-compatible devices and media players, no specific Blu-ray media player required.
Storage saving: A Blu-ray movie is generally large, but by converting to AVI file, it might only occupy comparatively small space. Release your hard drive storage so you could collect more movies.
Use Blu-ray disc at will: Most Blu-ray discs are protected with various disc protections. While ripping Blu-ray to AVI would allow you to remove disc protection and turn the Blu-ray disc you've purchased truly your own.
Best Software to Rip and Convert Blu-ray to AVI
To rip and convert Blu-ray to digital files like AVI, users need help from a reliable Blu-ray ripping software. DumboFab Blu-ray Ripper will be the right tool for you.
DumboFab Blu-ray Ripper offers professional and high-quality service for you to easily rip Blu-ray from disc to AVI and other formats like MP4, MOV, WMV, MKV, etc for convenient playback without using a hard drive to read the disc. This Blu-ray ripping software is widely selected by many trusted tech websites and blogs.
How to Convert Blu-ray to AVI Files Fast Within Clicks
Step 1. Open up DumboFab Blu-ray Ripper and add Blu-ray content.
Insert your Blu-ray discs into your BD dirve and then launch DumboFab Blu-ray Ripper. Click "Load disc" button to load the source Blu-ray movie.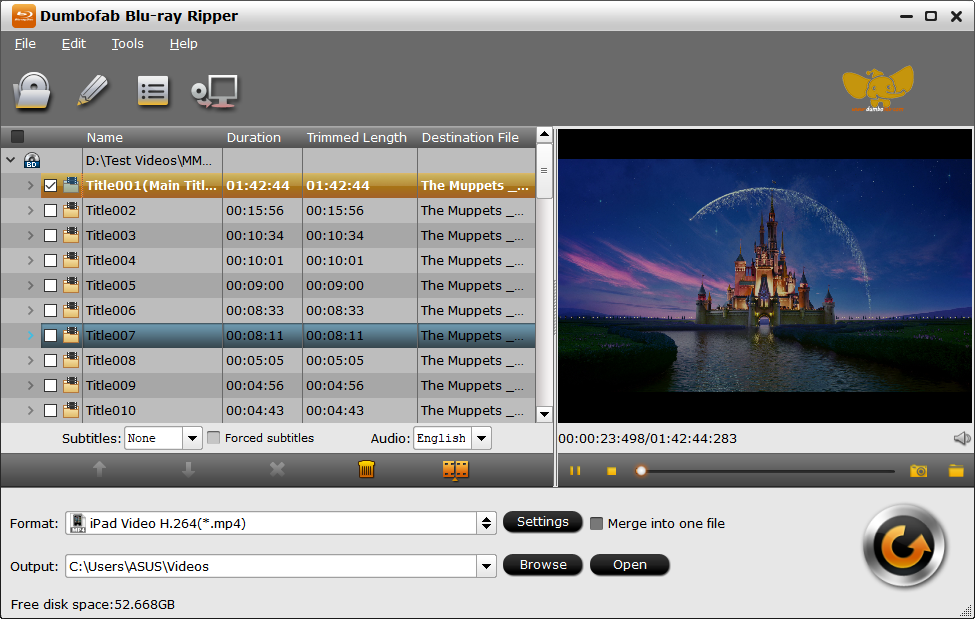 Step 2. Set the output file format.
In the pop-up output profile window, you can see all popular formats devices divided into various categories. You can choose AVI as your target format.
Step 3. Select audio channel and subtitle
After selecting AVI as the Blu-ray output format, you can choose the audio track and subtitles.
Step 4. Rip Blu-ray to AVI
When you also select the output format and quality, start ripping Blu-ray to .avi now. Just press the "Convert" button and DumboFab Blu-ray Ripper will start converting Blu-ray to AVI videos immediately.