Q: What are the realistic options (if any) for transferring a collection of Blu-ray discs to hard drive? Can this be done while maintaining full quality?
A: Actually, plenty of people copy Blu-ray movie discs to computer hard drives or external drive, and there are loads of software options available on the web that will help you do just that. Picking a proper tool is the key.
Benifits of Saving Blu-rays to Hard Drive:
• Copy Blu-ray and put digital copy to computer hard drive for direct use including editing, sharing, flexible playback without ever having to get off your couch to drop a disc in your Blu-ray player;
• Back up Blu-ray to external hard drive so as to stream on TV/laptop/PC, release more room for your house, or sort easily.
Why You End Midway When Copy Blu-ray Contents to Hard Drive Directly?
Blu-ray may be majestic, but it also has more copy protection than any other format around, and playing it on your computer can be difficult to impossible. Due to its heavy copy protection(excpet burned and homemade Blu-rays), you may end midway when trying to copy the protected Blu-ray contents to hard drive directly. And when you play the copied files, typically in .m2ts format, the decoder will ask for keys from the disc drive and you will get an error such as "Cannot play copy-protected files".
Let's look at some commonly used Blu-ray encryption technologies, which hold you back from backup Blu-ray to hard drive smoothly.
• AACS
The encrypted content can only be decrypted using combination of media key (obtained from Media Key Block by one of device keys available for each reproduction devices) and the Volume ID (unique identifiers stored on each disk) of the media.
• BD
The BD+ virtual machine embedded in authorized players will execute programs included in Blu-ray discs, allowing to verify the player's keys, transform the output so that content is unscrambled, and/or execute native code to patch the system against vulnerabilities. Based on concept of self-protecting digital content.
• ROM-Mark
Recorders will check for watermark that cannot be duplicated by consumer-level recorders, allowing authentic media for movies, musics and games.
Instead of "copy Blu-ray", generally we say rip Blu-ray to hard drive. A Blu-ray ripper is required to copy Blu-ray movies to hard drive.
Easiest Method to Copy Blu-ray to Hard Drive:
DumboFab Blu-ray Ripper is a versatile Blu-ray copy program that enables you to copy Blu-ray to hard drive ea-sily. It not only rips any Blu-ray disc to digital formats for PC/internal hard drive/external hard drive, makes 1:1 copy Blu-ray to hard drive, but also converts the movies to a desired device with the optimal file with ease. Moreover, it also utilizes hardware acceleration and multithread technology to improve the performance.
• Backup Blu-ray to a hard drive by ripping the entire disc or specific titles.
• Make 1:1 Blu-ray to Blu-ray folder, M2TS or MKV losslessly and keep 100% original videos/audios/subtitles within only 5 mins.
• Support a wide range of output formats, like MP4, AVI, MKV, etc which is readable by external hard drive HDD, SSD, NAS, USB, thumb drive, and the like.
What Format to Choose for Blu-ray to Hard Drive Backup:
• If you need a 1:1 Blu-ray to hard drive copy: we recommend "Blu-ray Backup" and lossless MKV option. Either Directly Copy (Main Title Copy), Copy the entire disc or lossless backup Blu-ray to MKV is without quality loss. Typically, Copy the entire disc and lossless MKV mode enable you to have all the original subtitle tracks and audio tracks and intact menu.
• If you need to Blu-ray to hard drive ripping with best quality-size tradeoff: we recommend "MP4 H.264 format" as the output format. MP4 can well balance size and quality and it's compatible with almost all devices, including PC, phones, tablets, and game consoles and HD/4K TVs as well as media players and and web services (e.g. YouTube, Facebook, Vimeo).
How to Copy/Backup Bluray to Hard Dive for More Flixible Playback
Anywhere from 30 to 60 GB of hard disk space, depending on what you're ripping. Blu-Rays are big, and we're going to rip the whole thing to our drive first, so depending on the movie you're ripping and the quality you want in your final movie file, you'll need a good amount of space. An external hard drive will work just fine if you have one and don't have the space on your PC.
Step 1. Load source Blu-ray movie
Insert the Blu-ray disc to the BD drive. Then launch DumboFab Blu-ray Ripper, and then and click the Load Blu-ray button to have movies uploaded.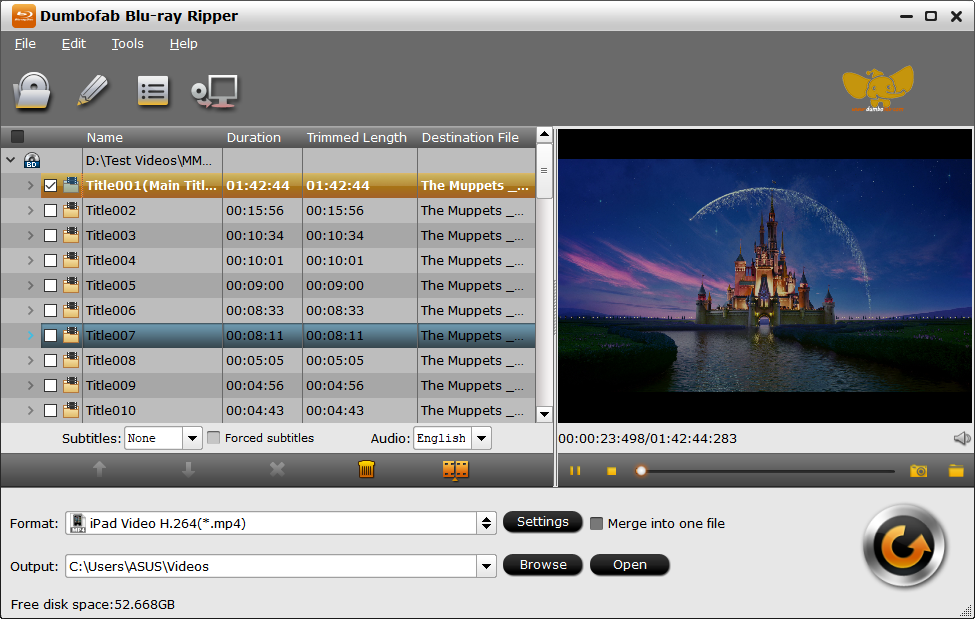 Step 2. Choose Output Format
The Blu-ray's information, such as title, subtitle, duration, output, etc. will be shown in the file list. You can choose to copy Blu-ray to hard drive in different formats:
No mattet for computer's hard drive or external hard drive, click "Format" bar and move mouse cursor to "Common Video" category, here you can choose H.264 MP4 which is the most widely used format allowing to stream the copied file on TV, PC or laptop and more. Plus, it strikes a perfect balance between file size (around 1.2-1.5GB) and output quality.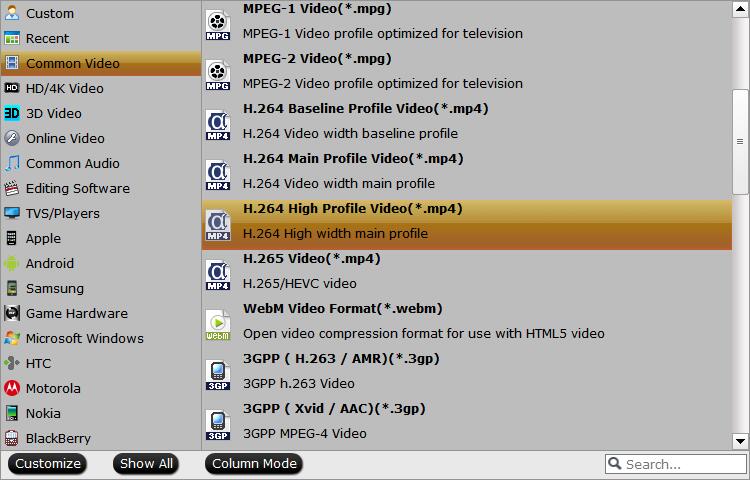 Today's 8TB and larger SSD is getting cheaper. It's not worth converting files to more efficient and space-saving formats in case of backing up your movie library. This is because re-encoding Blu-ray takes time and involves loss of quality. In this situation, you can choose "Copy the entire disc" to make a full title copy or select "Directly Copy" from "Copy" category to backup the main title.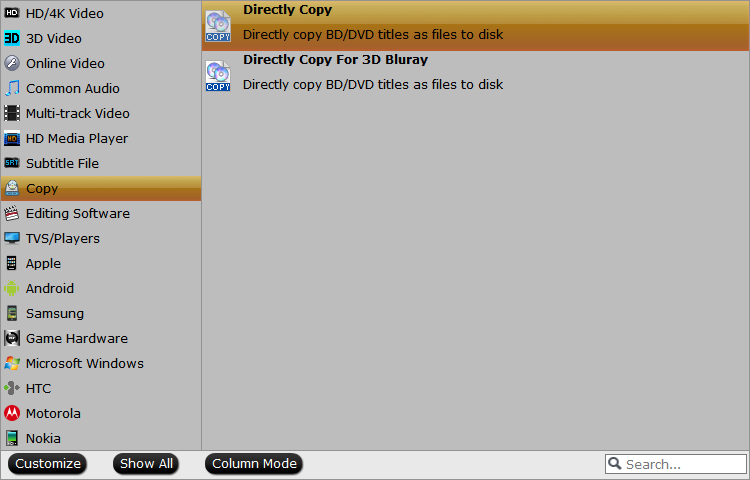 Also you can choose "Lossless/encoded Multi-track MKV" from Multi-track Video category to backup Blu-ray to a lossless MKV file. This will keep the audio and image the same as original. And you can save Blu-ray library to your computer hard drive for further use.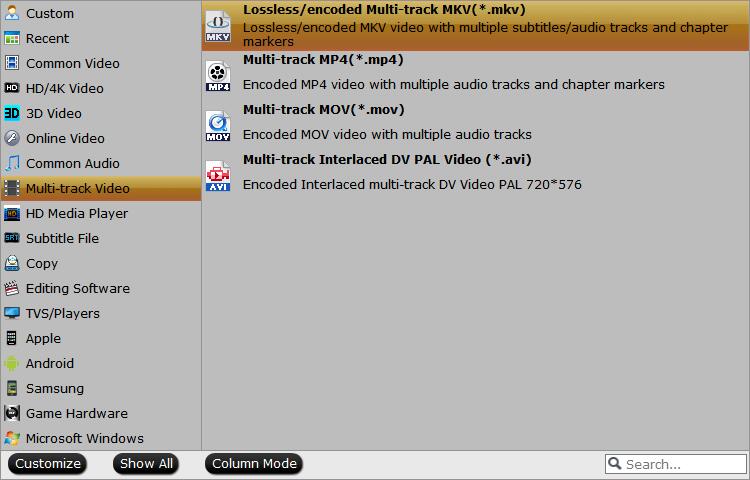 Step 3. Start Copying Blu-ray to Hard Drive
Click "Folder" button in the Output bar, and select a destination folder to save your rip. Now you're ready to hit "Convert" button to begin copying Blu-ray to hard drive.
Final Words:
Let's say you've got hundreds of Blu-ray at your living room but get tired of lugging them around, and now you want to rip the movies in Blu-ray to the hard drive on your Mac or PC machine (or maybe to an external USB hard drive) to be able to access movies instantly whenever you want. Just download and install DumboFab Blu-ray Ripper, you'll be good to go.