High Efficiency Video Coding, usually called HEVC or H.265, is currently the standard for compressing video. Most new content is encoded using HEVC — but it isn't included with Windows 11, and the codecs normally cost money. Here's how to get HEVC codec for Windows 11 for free.
Option 1. [Official] How to Download and Install HEVC Codec on Windows 11
As Windows 10 and 11 do not contain the codecs to play HEVC videos, Microsoft provides the required HEVC Video Extensions in the Microsoft Store. All you need is to pay $0.99. If you usually use apps like Microsoft's Films & TV Player app to play videos, it's a worthwhile investment.
To install the official HEVC codecs on Windows 11, open Microsoft Store app or website and find the HEVC Video Extensions. Click Buy and follow the instructions to finish the purchase. It will require your Microsoft account and credit card. Once the HEVC codec is installed, you can then play HEVC videos on Windows 11 without problem. Though a small portion of users are complaining that they've bought the codec but it won't launch or open.

Option 2. [Free] HEVC Video Extensions from Device Manufacturer
Instead of paying $0.99, you can get the HEVC extension free for Windows 11 from the device manufacturer. Here are two ways to get it, check which works for you.
First, click this link of the HEVC Video Extensions from Device Manufacturer. It's the free version of Microsoft's official HEVC video extension. Then you will see "Redeem a code" instead of "Buy". Click on it and it ask you to sign into your Microsoft account. Close that page and the HEVC codec will be downloaded on your Windows 11 PC.
Note that this method has stopped working since October 2020, though there are users who can still download it anyway. Try and see.

Second, if you can't download the Device Manufacturer's version of HEVC video extensions for Windows 11 via redeeming a code, don't depress. There are sites offering mirrors of the HEVC Video Extensions from Device Manufacturer like free-codecs. Click this link to open the site and you'll see HEVC codecs for Windows 11 32-bit and 64-bit. Select and download the correct version based on your PC system, follow the instructions to install the HEVC codec on Windows 11, and then you can play HEVC videos on Windows 11 PC.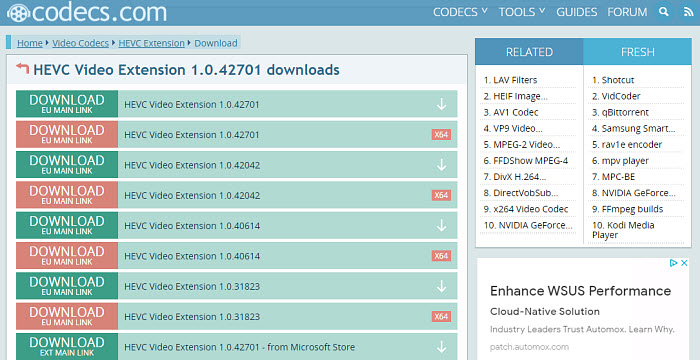 1. Media Player Codec Pack Plus
In addition to the HEVC video extension from Microsoft, you can install third-party free HEVC codecs on Windows 11. Media Player Codec Pack Plus is a free HEVC/H.265 codec pack that will work on Microsoft Windows Media Player as well as any other players that are compatible with DirectShow. With the free HEVC codec installed on Windows 11, you can play videos in HEVC, H.265, 10bit x265, MP4, MKV, AVI, WebM, M4V, and more. HEVC videos in 4K and higher resolutions are supported. It supports GPU hardware acceleration of Nvidia, AMD, ATI, and Intel for smooth HEVC playback.
Download the HEVC codec for Windows 11 here >>
2. K-Lite Codec Pack
K-Lite Codec Pack allows you to play HEVC videos on Windows 11. It has four different variants: Basic, Standard, Full, Mega. The standard version is free and it contains codecs to play HEVC, MP4, MKV, AVI, MOV, WebM, and more. It's very friendly on Windows environment as it includes MPC-HC player and works with Windows Media Player and Media Center, other popular DirectShow players such as Media Player Classic, ZoomPlayer, KMPlayer, PotPlayer, GOM Player, etc.
Note: If you have installed the free HEVC codec on Windows 11 but the H.265 videos still won't play, you need to know that the Haali splitter does not support HEVC. You need to stop using Haali splitter and use the LAV splitter instead.
Download the HEVC codec for Windows 11 here >>
3. Libde265
You can also download the open-source libde265 HEVC/H.265 video codec free on Windows 11 to play HEVC videos with other players, such as VLC, Chrome HEVC player, Windows DirectShow filter, FFmpeg, as well as HEVC/H.265 players from other parties. With libde265 HEVC codec installed, your Windows 11 VLC media player is able to play HEVC 4K Ultra HD videos @30fps without problem. The libde265 is able to decode all common types of HEVC files and can parallelize the decoding of streams to provide smooth HEVC playback on Windows 11.
Download the HEVC codec for Windows 11 here >>
Option 3. [No codec required] Decode 4K HEVC on Window 11 Freely
Decode 4K HEVC/H.265 for Windows 11 without Installing Extra Codec
 DumboFab Video Converter– No need to bother with various HEVC codec stuff. Easily convert incompatible HEVC videos in 4K/8K, 10bit, 60fps, any type to MP4, H.264, MPEG4, AVI, WMV, WebM, 3GP, etc. for playback on any Windows 11 players, such as Windows Media Player, VLC, Media Player Classic, KMPlayer, editors, etc. Intel, Nvidia, and AMD hardware acceleration supported to transcode HEVC videos for Windows 11 at a 5x faster speed. Its high quality engine will ensure the best output quality. Play HEVC videos on old hardware without problems.