"Does anybody have a recommendation for an alternative to makemkv if a Blu-ray movie isn't ripping on there? About 5% of my collection didn't work on makemkv."
We quoted the questions from Reddit.
Using MakeMKV to rip Blu-ray fails in every single step!
Won't even open the disc to view contents. Nothing ever pops up to open
It has failed a couple times to open the disc after the dvd pops up to open
Will sometimes open discs, but won't open all of the disc. Like Band of Brothers disc 2 would only show episode 3
Will sometimes fail when saving the MKV. Like Band of Brothers disc 4 saved episode 8, but episode 7 failed.
Movies will sometimes fail to save the disc in the final step
I also have ripped a ton of DVD and BluRay disks from my personal library using MakeMKV, and in my experience when MakeMKV fails it is usually one of the following issues:
There is a physical problem with the media (damaged or dirty)
There is a logical problem with the media (issue during mastering — like a wonky copy protection method — which can affect an entire run of disks)
The disk uses a higher AACS level than is currently supported (62 is the max supported by MakeMKV right now I believe) — but they usually update this fairly quickly.
There is a physical problem with the DVD/BRD player (I have had to replace one already — first it slowed down, then it started randomly exhibiting failures while reading/playing discs.)
If you really want to look at alternatives to MakeMKV, there are some good recommendations for you.
1. DumboFab Blu-ray Ripper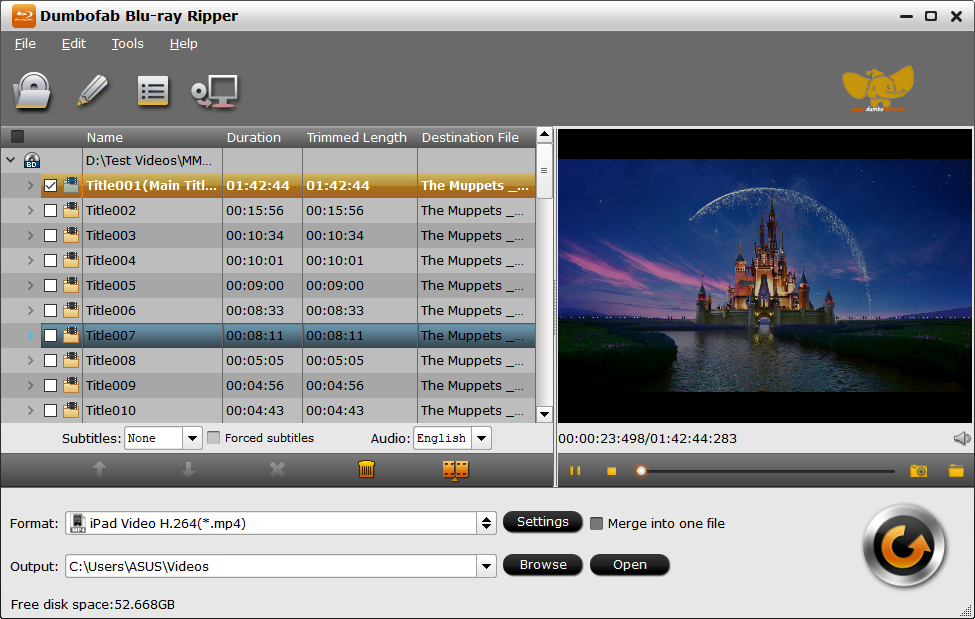 DumboFab Blu-ray Ripper is a lightweight tool by DumboFab studio, and it tops our list of the best MakeMKV alternatives for Mac or Windows PCs. You can download a free trial version of this software, but you'll have to pay an annual subscription fee to use it for ripping Blu-ray or DVD discs longer than three minutes.
Having to pay for Blu-ray ripping software isn't all bad though. It means you don't have to contend with in-app ads and upsells, and you get advanced features you wouldn't find in free Blu-ray rippers. Plus, DumboFab Blu-ray Ripper's price tag is fairly low, and we definitely think it's worth it.
Although DumboFab Blu-ray Ripper is lightweight, it doesn't hold back on performance. It can read all kinds of Blu-ray and DVD sources: protected and unprotected Blu-ray Disc, BDMV folder, BD ISO, physical DVD discs, VIDEO_TS folder, DVD ISO and IFO file. As the best MakeMKV alternative, it can also help you re-encode or remux Blu-ray and DVD to lossless/uncompressed MKV converter keeping all the audio and subtitle tracks, chapter markers. And it can also rip BD/DVD movies to MP4 and MOV with multiple audio streams. This is an unique feature that most Mac Blu-ray ripper softwares that don't provide.
There really isn't much more to it. As a professional and powerful all-in-one Blu-ray/DVD disc handling tool, DumboFab Blu-ray Ripper integrates DVD/Blu-ray ripping, conversion, and backup in one place. Using it is as simple as loading the disk, selecting the output folder, and pressing the big, blue 'Convert' button. The straightforward navigation makes it suitable for beginners and advanced users.
Besides the multi-track outputs, DumboFab Blu-ray Ripper also has the avility to convert Blu-rays into virtually any popular video and audio format such as H.265, H.264, MP4, MOV, MKV and AVI. If you don't know what settings to use, not to worry, as there are more than 400 pre-configured device profiles to choose from. Additional tools include split, trim, slip, merge, adding audio and subtitles, and snapshot, among others.
What's more, DumboFab Blu-ray Ripper provides two methods to help your backup your Blu-ray discs. Using the "Full Disc Copy" feature, you can copy Blu-ray/DVD's original file structure to BDMV/Video_TS folder with all subs tracks, audio streams and chapter information included. Besides, you can also save 100% intact M2TS main movie from your Blu-ray Disc without any quality loss to get perfect backup from BD 50 to BD 50 or BD 25 to BD 25.
With DumboFab Blu-ray Ripper, you will instantly experience the latest and most advanced technologies, including but not limited to Passthrough, HEVC, 4K, etc., and it will always keep updating to support the newest releases and devices. DumboFab Blu-ray Ripper comes with tutorials, FAQs and a knowledgebase on its official website. And DumboFab provides timely and excellent customer support service, including lifetime free upgrade of product and technical support.
Pros:
+ Very fast rips
+ Various output formats
+ Easy-to-use application
+ No annoying ads
+ Contains an editor
+ Excellent customer service
Cons:
– Although the interface is easy to understand, it need to be improved.
2. Handbrake
Handbrake is another great alternative to MakeMKV for multi-platform. It's an open source application for the purpose of converting MPEG video/DVD-Video to MP4 and MKV container format. Moreover, it has presets for iPod, iPhone, iPad, Apple TV and Android. What makes users disappointed is that it can only rip unencrypted DVDs. If you want to use Handbrake to rip encrypted DVDs, you need to download and install libdvdcss or VLC. But even with libdvdcss being installed, HandBrake only decrypts and rips some certain DVDs with CSS. To rip any copy protected DVD freely, you need a more powerful alternative.installed.
When it comes to the Blu-ray discs, Handbrake converts neither encrypted physical Blu-ray Disc nor decrypted commercial Blu-ray movies in BDMV file structure. That means you can also use Handbrake to convert unprotected Blu-rays to MP4 videos or smartphones, tablets, smart TVs, etc. with customized settings.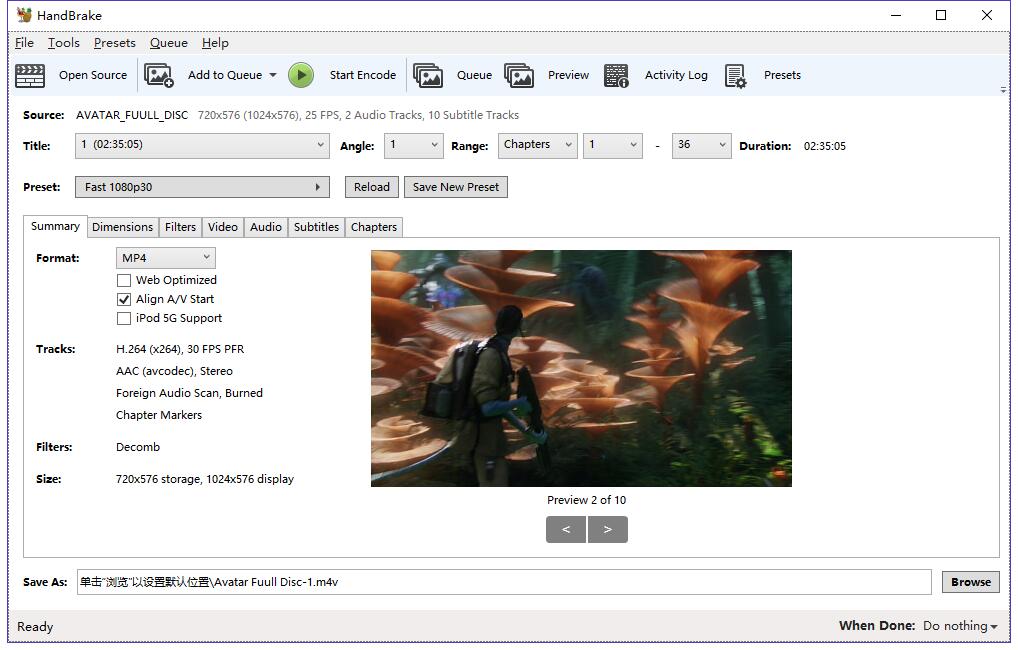 Pros:
+ Support a large number of output formats.
+ Full features to use for advanced computer users.
+ Support batch conversion and chapter markers.
Cons:
– Only rip some certain DVDs with CSS
– Unable to rip copyrighted Blu-ray discs.
– Sophisticated for newbies in many detailed parts.
3. Leawo Blu-ray Ripper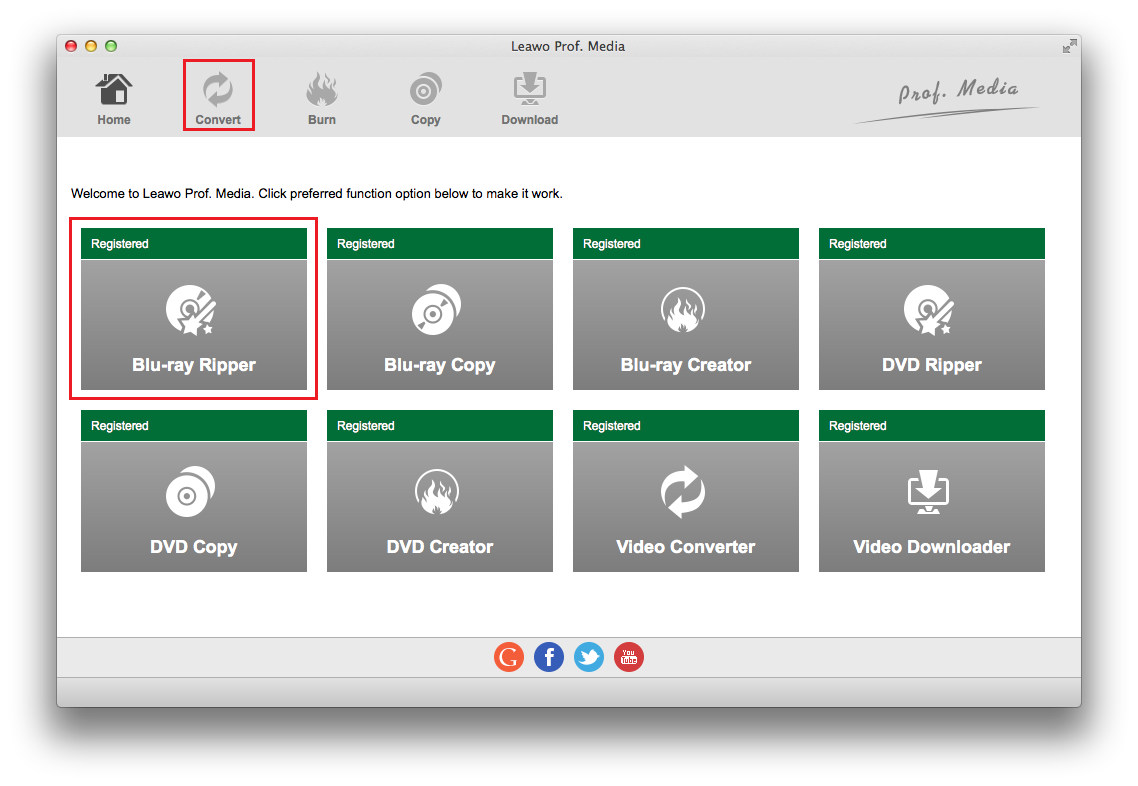 Like the above professional Blu-ray ripping solutions, Leawo Blu-ray Ripper can be also used as a MakeMKV alternative to handle Blu-ray dics. It has the same full ripping features to copy Blu-ray disc or the Blu-ray folders into any video formats with no quality loss. Powered by its excellent decryption technology, it easily removes common Blu-ray copy protections and region codes that block the copy of the disc. Multiple additional ripping functions are easy in touch, including subtitle and audio tracks selecting, 2D to 3D converting and practical video editing. It is suitable for Windows users while providing a counterpart for Mac users. You can use to replace MakeMKV for ripping Blu-ray dics but it doesn't offer the lossless MKV file as the output.
Moreover, to use the full version on one Mac for one year, you'll pay $44.95 and for lifetime licence, you'll pay $99.95 which is much more expensive than other Blu-ray ripping tools on the market.
Pros:
+ Easy to use in a straightforward program interface.
+ Powerful in removing Blu-ray copy protection: AACS, BD+ and the latest MKB, and ripping CSS-DVD discs easily.
+ Support queuing up ripping lists and load multiple Blu-ray movies at a time.
Cons:
– Unable to recognize ISO file (Windows version) or forced subtitles (if there is).
– Lower conversion speed compared with other professional Blu-ray rippers.
– No backup option for keeping original movie quality.
4. VLC Media Player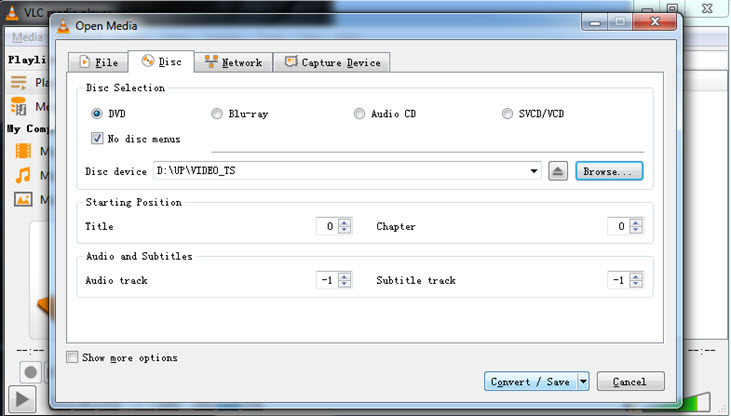 While there are loads of video playback apps, VLC remains one of the most popular and feature-rich media players. VLC Player rightfully earned its reputation for being able to play virtually any video format you want to watch. Although it's commonly considered the go-to for media playback, you can also use VLC to rip a DVD.
But be aware, VLC might fail for some special DVD without extensions or plug-ins installed. Most of the time, it will work for common DVDs.
As a player-focused tool, VLC might fall short at times for conversion tasks. Errors such as VLC ripped DVD are out of order, content cannot be ripped, non-UDF mastered DVD not supported by VLC, software crashing during ripping process crop up every now and then. Besides, the converted files sometimes endure serious quality loss, unbearable for 4k Blu-ray movie lovers.
Pros:
+ Support a large number of output formats.
+ Including some features to use for advanced computer users.
Cons:
– Only rip some certain DVDs.
– Unable to rip copyrighted Blu-ray discs.
– Slow and always pop up errors.
5. Freemake Video Converter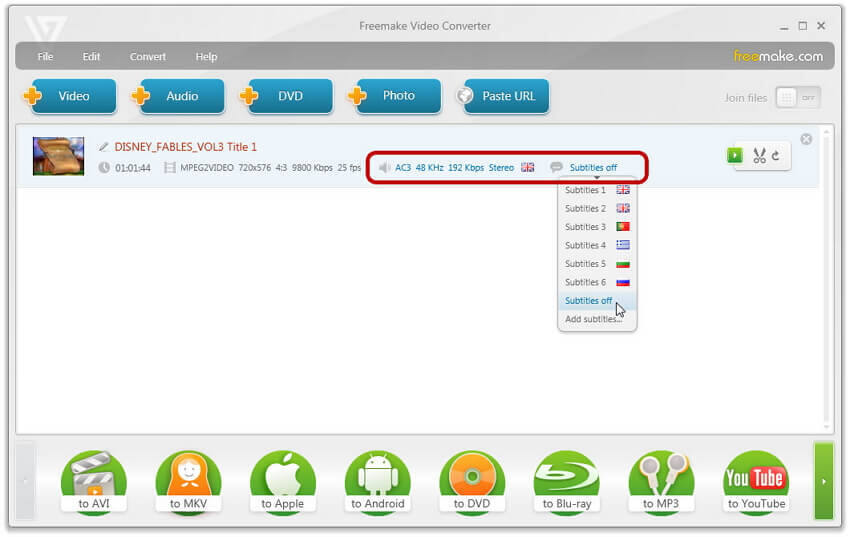 Freemake Video Converter is a multi-functional yet free Handbrake alternative for Windows Vista, XP, 7, 8 and Windows 10. It is able to convert videos among a wide range of video formats, rip unprotected DVDs to common formats/devices as well as burn DVDs. That's really a pity that Freemake doesn't accompany with a Mac version, thus people have to seek for a Freemake alternative for Mac. In addition, most users complained on CNET saying that Freemake Video Converter is full of adware and possible malware. Be careful if you want to use it.
The basic version with branding is free. To remove branding, it's $5 per week, $10 per month, or $299 for unlimited access. These prices sound very steep, but you get 80% off your first payment, which is a clear driver to go with the unlimited option ($59.95 with the discount).
Pros:
+ 4K possible
+ Good output quality
+ Fast conversions with paid version
+ Lots of preset profiles
+ Burn to DVD
Final words:
The above 5 free and paid MakeMKV alternatives, you can convert, copy and play Blu-ray discs on any device. MKV is not the only output video format any more. You can extract Blu-ray content and save as any video or audio format you like. If you have countless Bllu-ray/DVDs need to be digitalized, DumboFab Blu-ray ripper will be a nice and budget choice. Enjoy!