I want to bring some .vob files into iMovie. I've tried a couple of recommended solutions, i.e. Steamclip, but I get a message saying they can't be used or something of that nature. I'd appreciate a recommendation. thanks.
Stucked in the issues when importing .VOB files to iMovie for editing? Here we recommend you best solutions.
What is VOB Files?
As you see, VOB files usually exist on DVD discs, or are downloaded from movie sharing sites. When you put a commercial DVD disc and home DVD disc, you'll see lots of VOB files there. Besides VOB files, you'll also find IFO and BUP files inside the Video_TS folder. However, only VOB files contain the real DVD movies. Back to the point, if you are attempting to edit VOB movie files with iMovie, what's the available workaround?
Workaround to Import VOB Movie to iMovie?
Previously, you can try to create an disk image file with VOB files by using Disk Utility and then import .dmg image to iMovie as camera. Actually, that is a workaround. But it doesn't work anymore. Since iMovie works best with clips in the Apple Intermediate Codec encoded MOV format, the easy workaround to transfer your local VOB files or VOB files from DVD discs to iMovie is to convert VOB to iMovie compatible AIC MOV with a VOB converter software.
Here I highly recommend this professional yet easy-to-use video converter DumboFab Video Converter for Mac. It lets you trancode VOB files to iMovie in only a few clicks. And the iMovie native codec – Apple Intermediate Codec preset is included for easy access. See how below about converting VOB files to iMovie format.
Tutorial: How to Convert A VOB File to iMovie Codec
Step 1. Import VOB files into the Mac program
Download and install DumboFab Video Converter on your Mac. After the installation process, start it on your Mac.
Open Finder, and then locate and drag the VIDEO_TS folder containing your VOB files you want to convert for iMovie to this program. All movie titles or just the main movie (depending settings in the Preferences) will appear in the item try.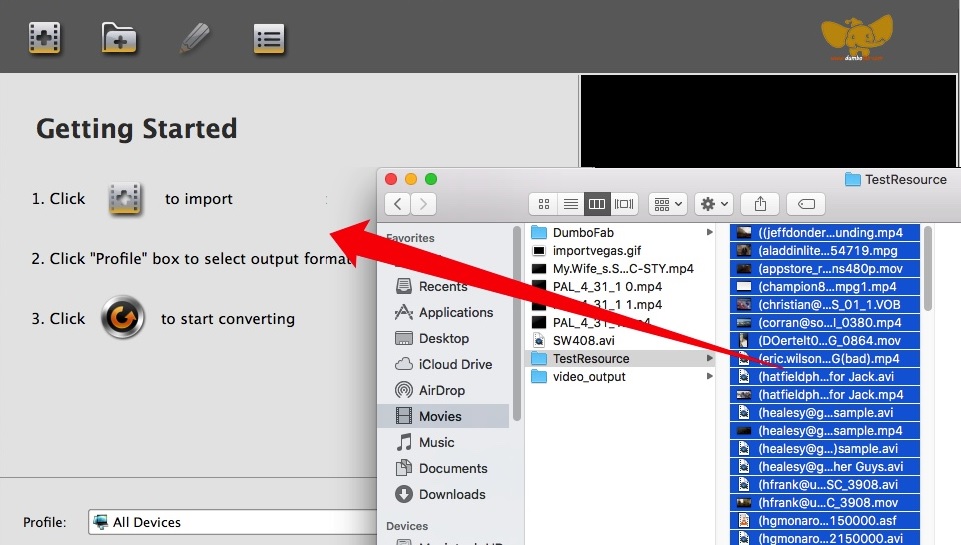 Step 2. Choose an iMovie Compatible Format.
The Profile tray locates in the buttom of the window. From Editing Software you can select iMovie (encoded with Apple Intermediate Codec) or an Apple ProRes as the output file. Both of the profiles can generate files with best image quality and better editing performance for iMovie.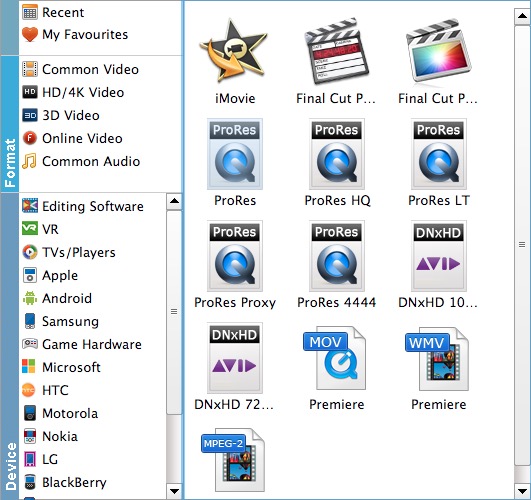 You can also go to the Common Video category and select MP4 (encoded with H.264 codec) or HEVC MP4 as the output file. The generated file can preserve image quality with the smallest file size when using in iMovie.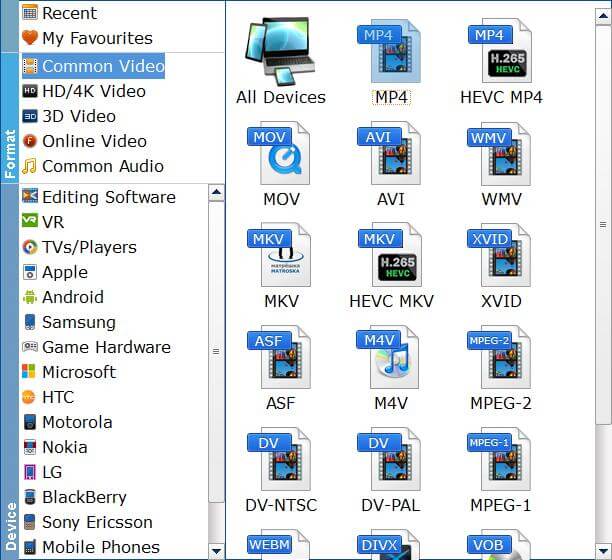 Tips: You can cut video, remove black bars, apply effects by use its Edit function. Moreover, you can adjust codec, resolution, frame rate, bitrate, etc. using its Settings function.
Step 3. Start VOB to iMovie conversion
Hit the Convert button to start VOB to iMovie conversion.
Once finished, you can follow the prompts on the software to get the converted VOB files. Next, open iMovie and click the File > Import Media… to add those files.
Final Words
There is no VOB codec available in iMovie which could encode VOB files for iMovie. To use these MOV files in iMovie, you would need to convert them into an iMovie supported format with the help of a converter tool like DumboFab Video Converter for Mac. Just download it which is worth a trial.