We've already covered how to digitize your DVDs, while how to turn Blu-ray to digitial files? Freed from their plastic prisons, your Blu-ray movies can follow you to any device, anywhere, while looking and sounding as pristine as ever. In this page, we will walk you through how to digitize Blu-ray to digital videos like lossless MKV, MP4, etc.
Part 1: Why We Need to Convert Blu-ray to Digital Formats?
There are various occasions and reasons for you to rip and convert Blu-ray to digital files. We have listed the causes below:
We know that Blu-ray discs are generally quite expensive. You have to pay for a lot to get previous movies in Blu-ray discs.
However, the Blu-ray discs are fragile and easy to get scratched. That means once your Blu-ray discs get scratched, you have to pay extra high cost to regain the Blu-ray discs.
Incompatibility issue makes it quite inconvenient to play and watch Blu-ray movies. We know that Blu-ray discs require Blu-ray drive and player that could play back Blu-ray discs. And some Blu-ray discs and players are even regions restricted. You have to adopt a region free Blu-ray player to play these Blu-ray discs.
However, if you could convert Blu-ray to digital files, you don't need to worry about the region restrictions upon your Blu-ray content since digital files could be recognized and played back on most media players and portable devices.
Movies on Blu-ray discs are inconvenient for sharing, while digital files could be shared easily. By converting Blu-ray movies to digital files, you could then freely share your Blu-ray movies through multiple ways, like online cloud services, email, blogs, websites, etc.
You may also have some other reasons for converting Blu-ray movies to digital files. No matter what your purpose is, you could get solutions here.
Part 2: Best Assistant to Convert Blu-ray to Digital Format – DumboFab Blu-ray Ripper
DumboFab Blu-ray Ripper is top recommended for backing up, rip and digtizing Blu-ray collection. This tool is powerful enough to free movies from physical discs to digital video formats for easier playback on mobiles, Plex, NAS, Xbox, computer, hard drive, etc. Turn all new & old Blu-rays, protected/region-coded Blu-ray/DVD discs and family discs to digital.
The using steps are so simple and easy. The following guide illustration is only three steps, which will cost you less than three minutes to read. This guide uses Blu-ray Ripper for Windows (Including Windows 10) screenshots. The way to rip Blu-ray disc on macOS Big Sur and ablove is almost the same. Just make sure you've downloaded the right version.
How to Convert Blu-rays to Digitial Video Files
Step 1. Download the Blu-ray to digital converter free trial version and install it on your computer. When you open it, a clean and clear interface will show up to you. Click "Load Disc" to import your Blu-ray (which is already being inserted to the computer Blu-ray drive). You can also add Blu-ray folder to rip.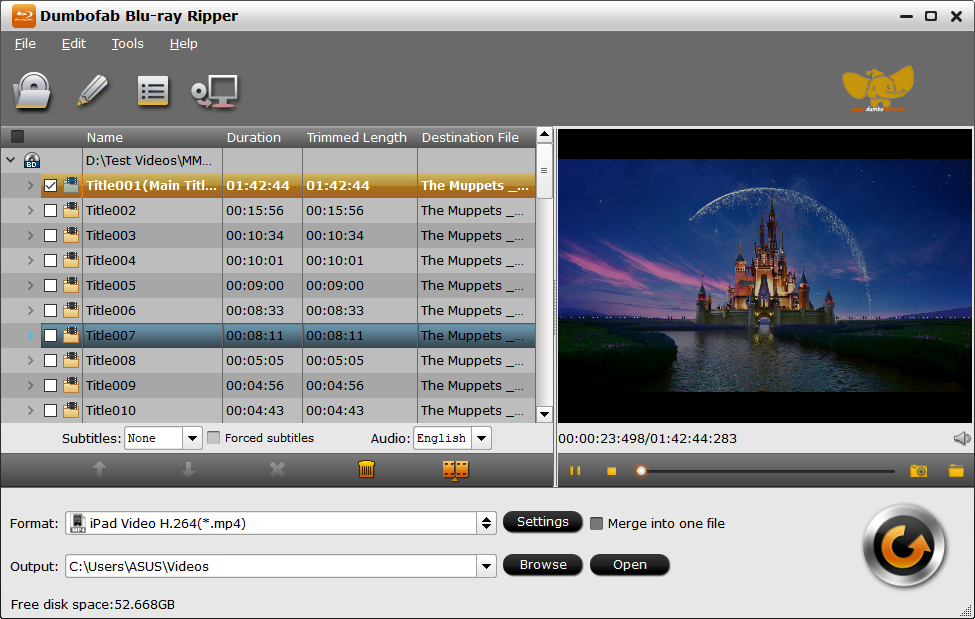 Step 2. Click "Format" to choose an output video format to convert Blu-ray. From the output format list, you can find various output formats. This is a quick way to help you select. MP4, MKV and MOV are both quite suitable for converting Blu-ray to digital.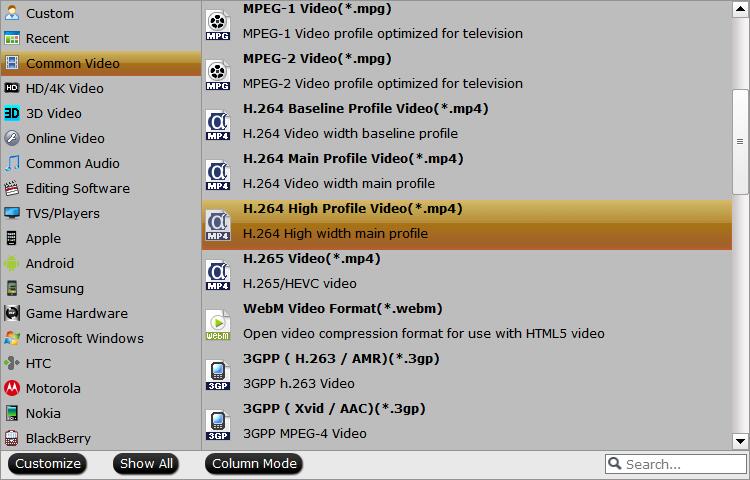 Step 3. Click the "Convert" button and the program will rip Blu-ray to digital immediately. You can check the ripping progress and conversion time on the window. Once done, open your converted Blu-ray digital movie and enjoy it. The converted Blu-ray videos may surprise you that they hardly ever lose of quality.
Summary:
Digitizing Blu-ray moives with DumboFab Blu-ray ripper, there is no worry about the difficulty of using process, and also have no worry about if this program is suitable for you. It offers a free trial version for every user. You can have fully tried before you decide to own it. So why not try this easy and useful Blu-ray to Digital converter now?