How can I play 4k UHD resolution videos in VLC Player without lagging and stuttering? Here we have 5 above methods to help you play 4K in VLC without any issue.
Although 4K videos are being distributed more than ever before, many video player programs including the latest VLC media player still does not support 4K perfectly with stutter, no audio playback, etc issues. In order to help you play 4K videos with ease, some workarounds are introduced in this page.
Methods to play 4K ultra HD videos in VLC Media Player
Update VLC Media player
Increase Cache Value
Change Video Output Settings
Disable Hardware-accelerated Decoding
Change 'Skip H.264 in-loop Deblocking Filter' Setting
Update Graphics Card Drivers
Convert to compress 4K UHD videos
Repair corrupt 4K UHD videos
1. Update VLC Media player
The VLC Media Player, in its latest version 3.0, comes with better support and capabilities for playing 4K UHD videos. Therefore, the first step to fix VLC 4K media playability issues is to download the latest version of VLC 3.0 Media Player and try it out to watch high-definition videos without any disturbance.
2. Increase Cache Value
This method works when your 4K UHD videos stutter or lag in VLC Media Player. Try increasing the Cache Values in the software settings.
Note: If you do not find Cache option in your VLC Player, update it.
Steps to increase Cache Value in VLC Media Player:
Open Tools > Preferences
In Show settings,select the All option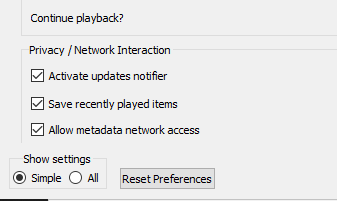 Figure: Show settings option in Preferences window
In Advanced settings, click Input / Codecs
Under the Advanced heading, change the value of File caching (ms) from 300 to a higher value like 10,000 or 20,000.
Tip: you can also change Network caching (ms) and Disc caching (ms) to higher values and check which one setting works best to fix 4K videos issues.
3. Change Video Output Settings
For many users, switching the video output to DirectX DirectDraw or OpenGL makes the 4K HD videos playable in VLC Media Player.
Steps to change Video Output settings in VLC Player:
Click on Tools > Preferences> Video
Under Video Settingsin Output, change Automatic to DirectX (DirectDraw) video output. You can also try OpenGL.
Click Save
4. Disable Hardware-accelerated Decoding
With hardware accelerated decoding, the task of playing certain videos (usually H.264 MP4 videos) is taken off from CPU and handed over to GPU of your computer. VLC Media Player can use computer's GPU to accelerate decoding of some type of video codec streams. If you are facing video problem in playing any 4k video file in VLC, try once by disabling the hardware-accelerated decoding.
Steps to disable hardware-accelerated decoding:
Open VLC Media Player.
Click on Tool > Preference>Input /
Click on box across the Hardware-accelerated Decoding option and choose Disable.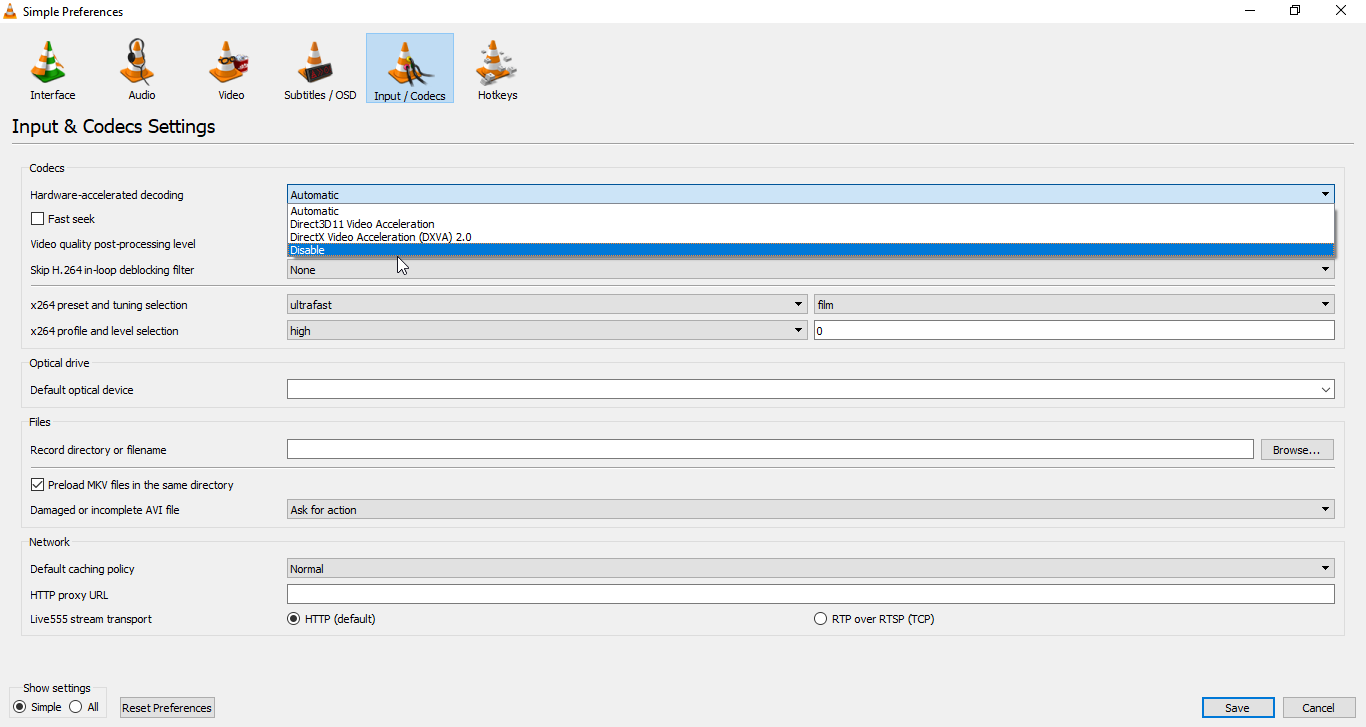 Figure: Hardware-accelerated Decoding option
Click Save Next restart VLC Player and play 4K video.
5. Change 'Skip H.264 in-loop Deblocking Filter' Setting
One way to fix video lagging while playing high-definition video files in VLC is by changing 'skip h.264 in-loop deblocking filter' setting to 'All'. Although this will lower the video quality but make the playback smooth.
Steps to change 'skip h.264 in-loop deblocking filter':
Open VLC Media Player.
Click Tool > Preference>Input / Codecs.
Go to Skip H.264 in-loop deblocking filter option, and change it to All.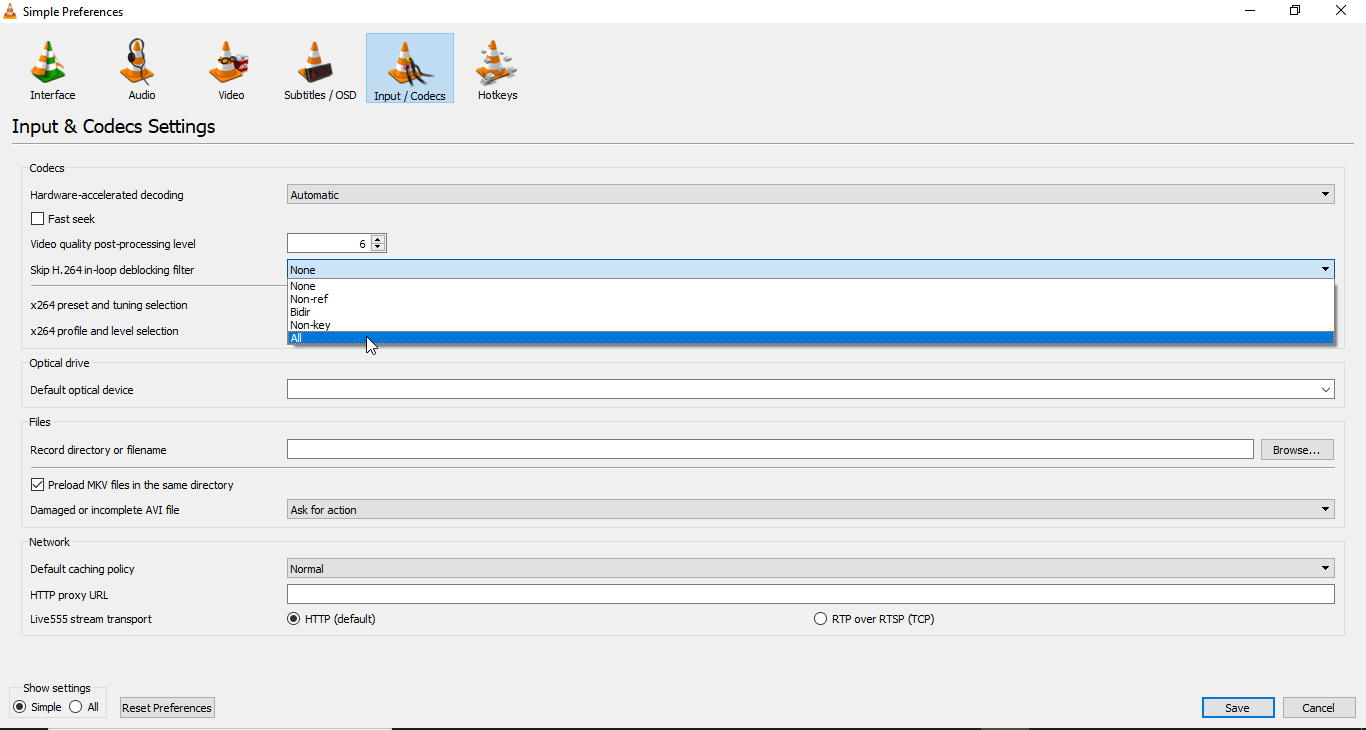 Click Save. Restart VLC player to play 4K video again.
6. Update Graphics Card Drivers
You can update graphics card drivers by using Windows Update feature. Simply go to Start menu. Click on Settings > Update and Security and click Check for Updates button. This will automatically perform regular Windows Updates and also check for new drivers.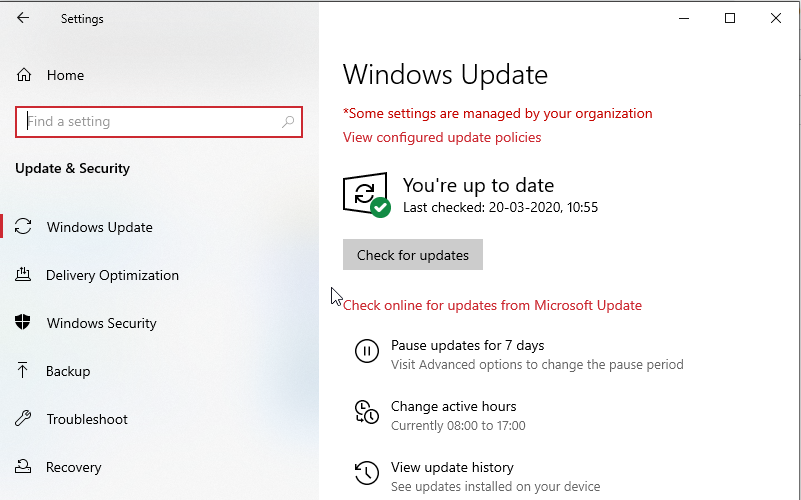 Figure: Check for updates in Windows update window
You can directly update drivers by visiting the manufacturer's website and follow the graphic card driver update guide. For instance, Nvidia users can refer Nvidia Update from here.
7. Convert to compress 4K UHD videos
Even when your computer meets the intensive graphics and processor requirement, large-sized 4K videos may not play in VLC. You can compress your videos to a smaller size with the help of DumboFab Video Converter.
These tools can convert and compress 4K UHD videos like H.264 MP4, MOV, AVI, etc. to HD format for smooth playback on VLC Player.
• Compress a large video size by 90% with a merely pixel-level quality difference.
• Change 4K video to various resolutions like 320p, 420p, 1080p, etc. according to your need.
• The conversion speed would be lightning fast.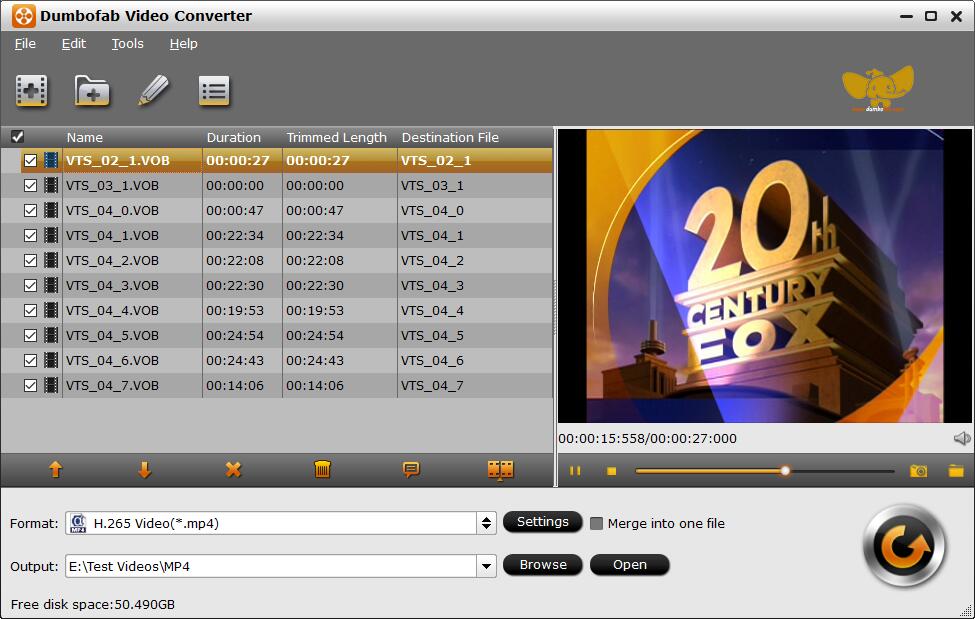 Final Words:
These 7 methods are pretty much all the possible solutions that I can come up with for playing 4K video on VLC. If you have another practical one, please share with me. Enjoy!