You've been hit with the hard reality of dealing with the MKV file format.  It's a great codec, but isn't supported by the major NLE software like Avid Media Composer, Premiere Pro, DaVinci Resolve, etc.
If you're interested in how to edit with an MKV file in Avid Media Composer, there's 2 solutions.  The trick for how to import MKV files into Avid or any other NLE, is to convert the files first. 
Free Solution- Using Hanbrake to Convert MKV to Avid Media Composer format
Handbrake is an amazing open-source application. One of those that makes you scratch your head and wonder how on earth it's possibly free. Simply import your MKV file, or multiple MKV files to batch convert, grab a preset, or choose your own settings, and convert!
Handbrake's default settings will transcode your MKV files into an M4V, which is just a tasty flavor of H.264 MP4.  In the example above, I chose one of Handbrake's built in presets "Super HQ 1080p 30 Surround".  It's great for a quick and dirty transcode that will deliver good results. 
Custom Handbrake Preset
As you've probably gathered, I'm a big fan of presets and Handbrake lets you build and import your own presets to get your workflow cooking.
On the video side of things, I switched a few things around to enhance the output video:
Video Codec: Hardware Encode (Nvidia, AMD, Hardware, etc)

Uses hardware encoding to create videos (faster)

Framerate(FPS): Same as source

Constant Framerate

Keeps the source framerate rather than converting to 30 or something else

Constant Quality: 15

Slight increase in quality of the video. 0 is lossless.
Under audio, I added a single stereo mixdown with a bitrate of 256 kbps.
With that set, you can click the "Save New Preset" button and get to converting.
100% Working Solution– Convert MKV to Avid supported DNxHD with DumboFab
MKV import failure in Avid Media Composer is mainly due to incompatible file format or codec missing, which can be easily solved by transcoding MKV to other AVID freindly formats with video converter software like DumboFab Video Converter (or Mac version). This software is available for both Windows and Mac users. And it accepts all MKV files with different encoded video/audio streams.
With it, you can easily and fast convert MKV to a format like DNxHD, H.264 encoded MOV or MP4 that natively supported Avid Media Composer. As for the video quality, don't worry too much. With the constantly updated conversion algorithm and the advanced high quality technology, it guarantees you the output MOV video with up to 98% quality reserved, wrinkles or freckles in image still clear enough to count. The H.264 files can preserve image quality with the smallest file size while DNxHD files preserve the best image quality and provides better performance when editing in Avid, but creates much larger files that use more storage space than H.264 files use.
Guide: Transcoding MKV to Avid DNxHD for Media Composer
Step 1. Load MKV files to the program
Launch DumboFab video converter, and you can either click "Add Video" button to import .mkv files, or directly drag and drop the files into this program.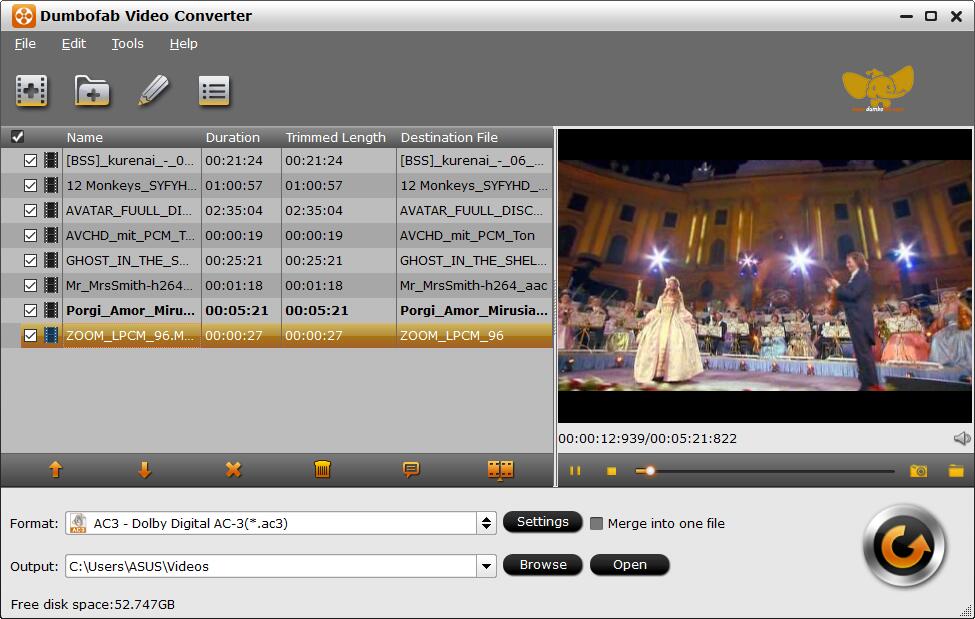 Step 2. Choose DNxHD as the output format
You can directly choose the DNxHD preset from "Editing Software" category for Avid Media Composer which has been supplied by the MP4 to Avid Mac Converter.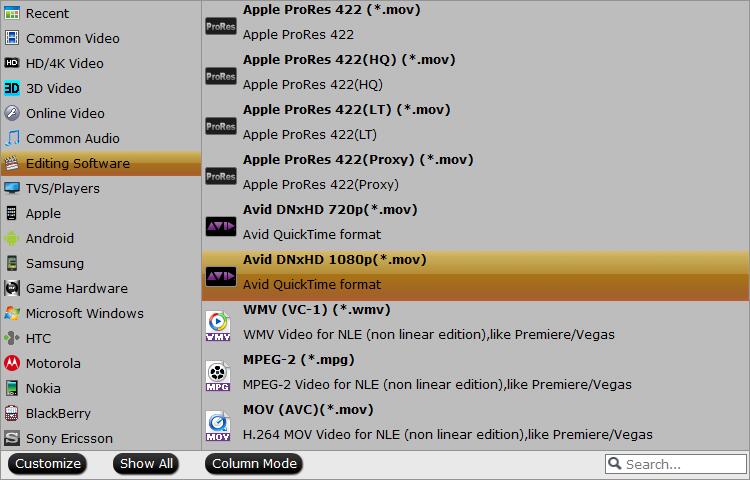 Step 3. Start MKV to Avid DNxHD conversion
Hit "Convert" button and your files will be converted into DNxHD .mov files ready to be imported into Avid Media Composer. That's it.  After the file's converted, the DNxHD that DumboFab creates can be pulled into your Avid Media Composer easily.