I have problems by importing my .VOB format clip into Adobe Premiere Pro. When I do that the audio sounds somehow different. Is there any solution for me?
Have issues when importing VOB files to Premiere Pro? Don't worry. This article will shows you an easy way to import VOB files to Adobe Premiere Pro for further editing without any audio, video issues.
Method 1. Change VOB file extension
VOB files are essentially MPEG-2 files – you can change the file extension from VOB to MPG and it should play back fine. You'd better pull out the audio separately and then match it back in PPro – it's obvious PPro has issues dealing with the highly compressed audio segment of the video.
Method 2. Re-encode VOB to MPG/ProRes more compliant format
It is also a good option to re-encode the VOB to a more compliant format like MPG, ProRes for editing. To finish the VOB to Premiere Pro task, here I highly recommend this professional yet easy-to-use video converter – DumboFab Video Converter. It lets you convert VOB files to Premiere Pro supported file format without losing any quality in a few clicks! Three Premiere presets are included for easy access. Besides, it also provides professional encoders for Final Cut Pro, iMovie and Avid and more.
Guide: How to convert and import VOB files to Adobe Premiere
Step 1. Import VOB files to the program
Run the video converter, then click "Add File" button to import VOB videos to this powerful program. Or you can simply drag the videos directly to the software.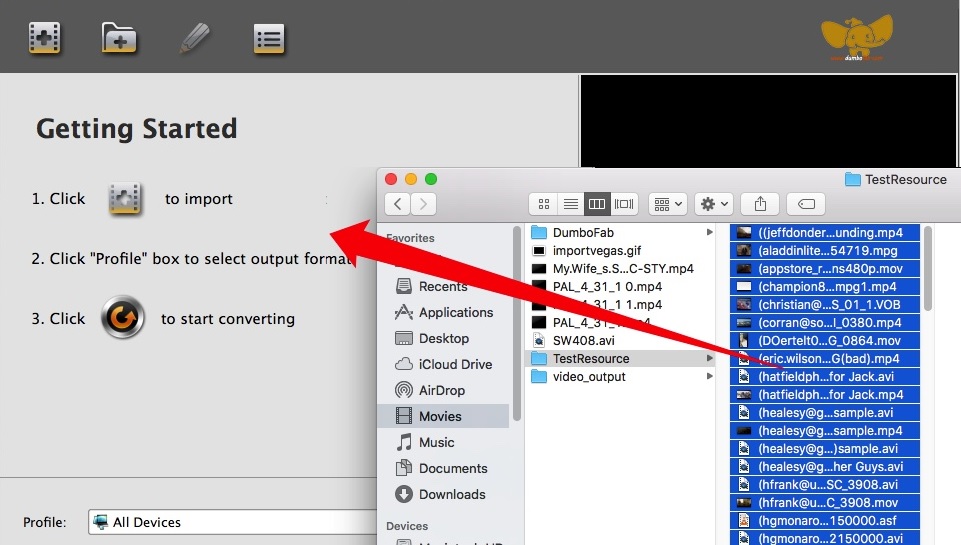 Step 2. Choose the optimized preset for Premiere
The program has three already optimized the video settings for Adobe Premiere Pro. You can select MOV (Entitled Premiere), WMV or MPEG-2 from "Editing Software" as the output format. All output videos will keep the original quality of VOB video and seamlessly fit Adobe Premiere Pro CC.
Step 3. Start VOB to Premiere Pro conversion
This VOB files converter will convert VOB files rapidly, preserving 100% original quality. When finished, the output file is ready for being imported to Premiere Pro for editing.
How to Import files to Premiere Pro with the Import commands
To import files with import commands, do the following:
Choose File > Import. You can select multiple files.
To import a recently imported file, choose File > Import Recent File > [filename]. (The filename doesn't appear if Premiere Pro preferences have been reset.)
To import a folder of files, choose File > Import. Locate and select the folder, and then click Import Folder. The folder, with its contents, is added as a new bin in the Project panel.