There are lots of guys ask how to remove Blu-ray copy protection in different forums. In this article, I will share the best methods to remove copy protections from Blu-rays.
What Is Blu-ray Copy Protection?
Each Blu-ray disc there will be a document which is called Blu-ray copy protection. Blu ray disc adopts many copy protection tools like BD+, region codes, Cinavia, AACS, UOP, Digital rights management, High-bandwidth Digital Content Protection and BD-ROM Mark to prevent unauthorized access to Blu ray disc.
Why Is It Necessary to Remove Blu-ray Copy Protection?
It's quite illegal to copy protected Blu ray disc for commercial use, however, we may have the right to copy blu ray disc for our own use since we have paid for it. As you know, blu ray disc is expensive but also fragile to scratches. If you remove blu ray copy protection for your own use, then you will be able to copy protected blu ray to many devices like iPad or copy blu ray to blu ray for backup. You can also share your blu ray videos with your friends.
Best Software to Remove Blu-ray Copy Protection
1. DumboFab Blu-ray Ripper
Ripping and copying regional Blu-rays is the best way to play foregin region-coded Blu-rays without limits. DumboFab Blu-ray Ripper is the best blu ray copy protection removal software to make all Blu-rays region free. In the respect of Blu-ray region code, it works in the following ways:
Convert Blu-ray to region free: DumboFab Blu-ray Ripper gets around country code blocks and makes any regional Blu-rays unlocked and convertible.
Convert regional Blu-rays: not only a region code remover. DumboFab Blu-ray Ripper can convert region encrypted DVDs and Blu-rays to AVI, MP4, H.264, HEVC, MPEG, WMV, MOV, etc. After conversion, Blu-ray/DVD owners are enabled to transfer the regional movies onto memory stick, hard drive, USB flash drive, MicroSD Memory Card and so on, or even play Blu-ray videos on Android (Samsung, HTC, Google, Amazon, Xiaomi, Aquos, Fujitsu), iPad, iPhone, Apple TV, WP8, Surface Pro, PSP and more.
Ultra-fast Conversion Speed: With the help of hardware acceleration powered by Intel, NVIDIA and AMD, DumboFab Blu-ray Ripper utilizes and balances recourses of the computer CPU and GPU. The conversion speed can reach up to 30x faster while keeping a low CPU usage and with a perfect balance among speed, output quality and file size.
Step 1. Load the copy-protected BD
Insert Blu-ray disc into optical drive of your computer or a USB DVD drive, launch DumboFab Blu-ray Ripper and then click dis button to import the source Blu-ray. Then it will fast scan your BD, bypass copy protection, and detect the correct main movie title for you.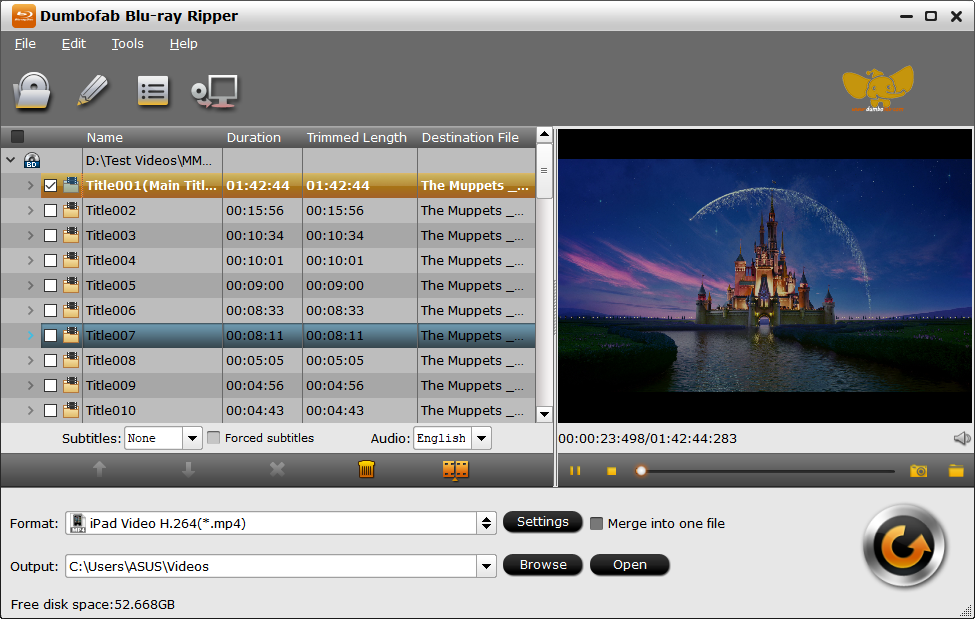 Step 2. Select an output format
In the pop-up output profile window, you can see all popular formats and devices divided into various categories. Here you can pick up MP4, MKV, AVI, MOV or any other digital formats or select the device profile based on the device you're using as the wanted output format. You can also copy Main Movie from Blu-ray or copy the Entire Blu-ray Disc.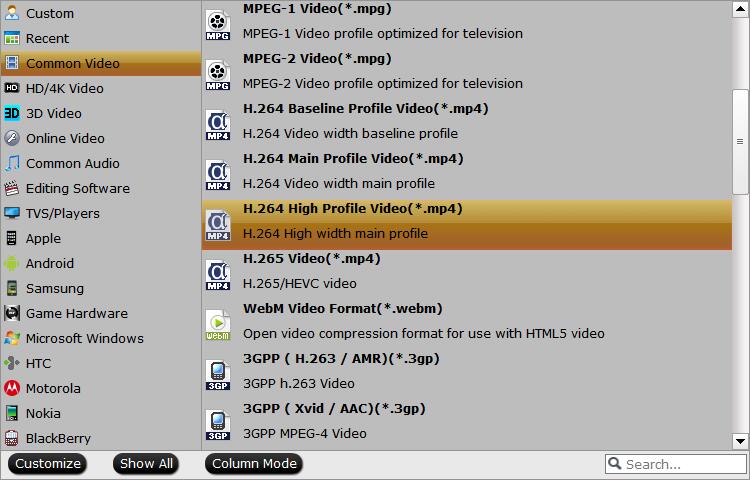 Step 3.  Start to copy Blu-ray and remove copy protection
Hit "Browse" button to set destination folder (hard drive or device) and click "Convert" button to rip Blu-ray with removal of copy protection.
2. MakeMKV
MakeMKV is also a great choice for getting a Blu-ray disc digital copy. After installing MakeMKV, you will usually have a one-month period that allows you to rip and digitize Blu-ray discs for free. And if you use it to rip DVD, it will remain free forever. MakeMKV could help you easily decrypt, rip and convert Blu-ray discs to MKV files, with disc protection successfully removed.