Blu-ray discs show the extremely high-quality picture and give cinematic video experience that gain the upper hand. However, it is not that convenient as streaming videos to play whenever you want. Therefore, you may look for ways to rip Blu-ray and get lossless Blu-ray rip with 100% untouched quality.
Part I. Basic knowledge for ripping Blu-ray losslessly
In the process of ripping, compression is often used to make files smaller. There are two types of media file that we can get from compression, lossy type of media file and lossless type of media file. By compressed, we get a smaller size of file that free some hard drive space, and the smaller-size file is preferred by social network. Ripping makes larger-size files more portable and acceptable. However, there will be some data thrown out during the process of ripping and compression, and on most occasions, lossy files are created rather than lossless files. In order to get smaller-size yet lossless file by ripping, it is necessary for us to figure out what files are lossless.
In terms of image files, RAM, BMP, and PNG are all lossless while JPEG and GIF are lossy. In terms of audio files, WAV, FLAC, and ALAC (Apple Lossless Audio Codec, used by iTunes) are all lossless while MP3, and OGG are lossy. As for video formats, as lossless video formats take up a huge amount of space, people seldom choose lossless video formats as output formats. However, in order to rip Blu-ray lossless, we can choose MKV as the output format.
As the most favourite video container format, MKV contains many audio tracks, video and subtitle streams in a single file. As MKV format help do lossless backup whatever kind of disc like CD, DVD and Blu-ray Discs, many people prefer MKV format as the output format when they would like to rip Blu-ray lossless.
Besides Blu-ray disc ripping, we can also backup Blu-ray discs with two options: directly copy(Save 100% intact M2TS/VOB main movie from your Blu-ray/DVD Disc without any quality loss.) & full disc copy(Backup the entire disc in original file structure with all subtitle tracks and audio streams preserved.) to get lossless 1:1 audio and video from Blu-ray.
Part II. The best lossless Blu-Ray ripper for Windows or Mac
DumboFab Blu-ray Ripper is an easy to use and powerful Blu-ray ripper software that can rip and convert Blu-ray to lossless MKV video formats. For the output, lossless MKV format make sure you get 100% quality of original image after conversion. What's more, you can easily copy BD whole content or just backup main movie from Blu-ray with its provided copying features that can preserve 100% original quality. With the latest technologies, DumboFab Blu-ray Ripper can rip Blu-ray disc with a fast and efficient processing.
• Rip Blu-ray to Any Popular Video/Audio Format and Device
• Excellent Multi-track Preservation
• Ultra-fast Conversion Speed with the Latest Technology
• Backup Blu-ray & DVD with Zero Quality Loss
• Edit Videos Efficiently. No Experience Required!
• Flexible Settings for Advanced Users
• Tech support and 24 hours manual service
Part III. How to Use DamboFab Blu-ray Ripper to rip or backup Blu-ray with 100% original quality
1. Load source BD source
Launch DumboFab Blu-ray Ripper. Insert the BD you want to rip into the external Blu-ray drive, and then click the Load Disc button on the tab to add the movies from your Blu-ray disc.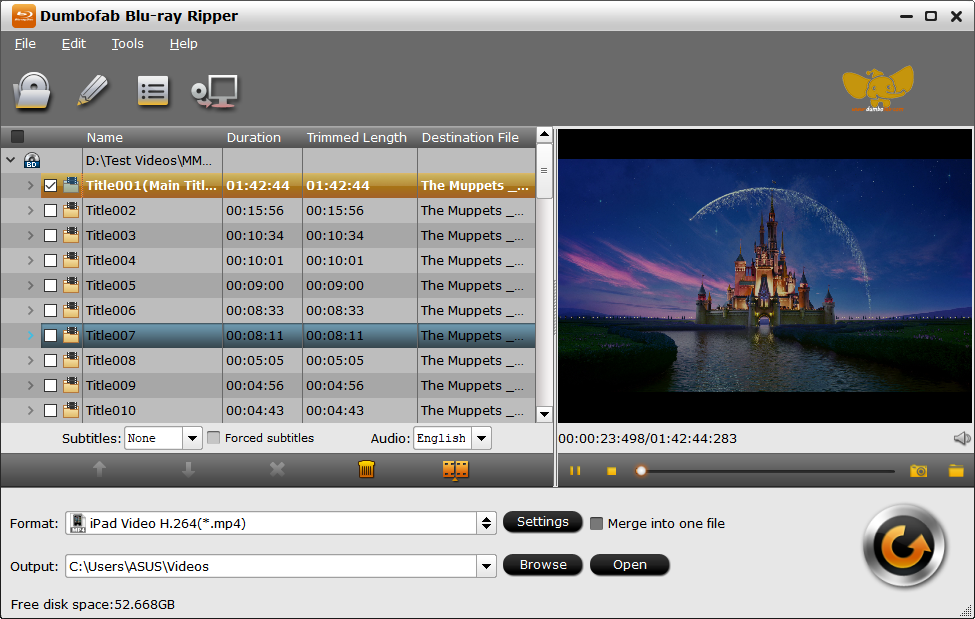 2. Convert Blu-ray to Lossless MKV or backup Blu-ray discs
2.1 Rip Blu-ray to Lossless MKV
This is the unique feature of DumboFab Blu-ray Ripper. You can choose "Lossless/encoded Multi-track MKV" under "Multi-track" video profile. Click Convert to start ripping Blu-ray to MKV in a lossless way.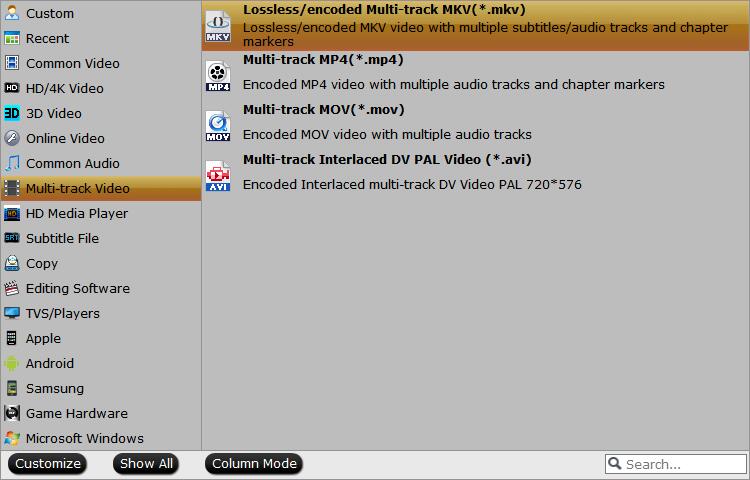 2.2 Copy Main Movie from Blu-ray
By choosing Copy > Directly Copy, you are ale to copy the selected movie file in its original format without quality loss. When directly copy a Blu-ray movie, you will get .m2ts as output. Finally, click Convert button to start the copy process.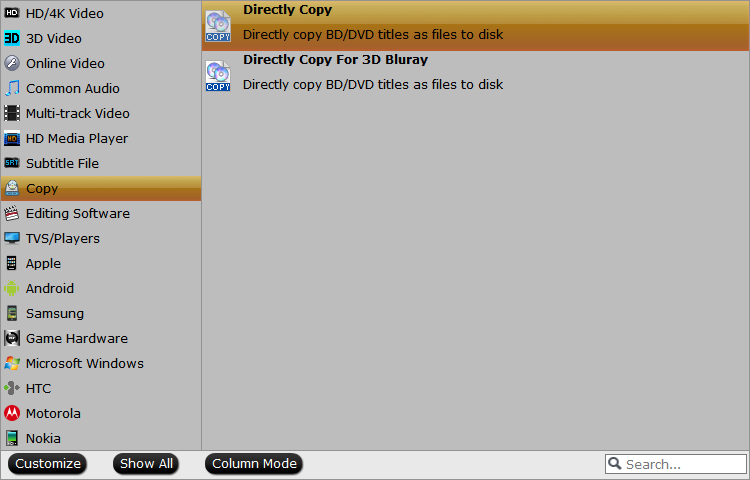 2.3 Copy the Entire Blu-ray Disc
If you want to preserve Blu-ray's original file structure without changing anything, you needn't set here, just use Copy the entire disc feature. Once click the Copy the entire disc button, the program will directly copy the whole disc immediately.

Final words:
Blu-ray quality beats streaming by a long shot. But discs are more inconvenient than ever. If you like to rip your Blu-ray movies as giant lossless files, the above 3 options are just for you. But you'd note that huge files take up a lot of space.