Anime DVDs are not only popular in Japan, but also in the whole world. There are lots of young people like to watch anime movies. If you want to watch anime DVD on some popular portable devices, TV, PS4, Xbox, player etc, you may need to rip anime DVD to MP4, MKV or any popular formats in advance. However, something troublesome issues occurred when ripping anime DVDs:
"I have a bunch of anime DVDs on my shelf that I would like to digitize. I have attempted to rip them using the MakeMKV software, but when I played them back to check them, it doesn't show the right subtitles and audio track. Any solution?."
"I was wondering how to rip anime shows/series out of the DVD to hard drive in any kind of format. At first I thought "Gosh, this is going to be easy!" but when I got around to doing it, I found it a little confusing. Any help?
Guidance for Ripping Anime DVD in MakeMKV
As you see, some guys have tried MakeMKV to rip anime DVD movies. Follow the steps please:
Load the anime DVD in MakeMKV, expand the directory window and untick/tick only the elements you want it to extract and copy to an MKV container. For example, if the disc has Japanese & English audio and English subtitles, but you wanna Japanese audio and English subtitles track, untick the English audio track(s) and tick the Japanese audio and English subtitle tracks. Then you can get the output files as you want.
Best Tool to Rip Anime DVD Discs – DumboFab DVD Ripper
Well, if you have always been a fan of ripping DVD to MP4, MOV, etc rather than MKV. Or you find MakeMKV cannot help you convert anime DVDs quickly and losslessly, you can try the best tool – DumboFab DVD Ripper to rip and convert your anime DVD movies.
DumboFab DVD Ripper comes with 350+ output profiles, covering all mainstream video formats to meet users' different needs. With this tool, you can rip anime DVD to MP4, AVI, WMV, MOV, FLV, M2TS, MPEG, ISO file, VIDEO_TS folder, etc.
This program supports multiple advanced technologies to speed up DVD conversion. This tech is based on NVIDIA CUDA/NVENC, making use of CPU/GPU hardware acceleration in decoding, processing, and also encoding.
How to Rip Anime DVD to Digital Formats
Step 1. Add the Anime DVD
Insert your DVD disc to the drive, then launch DumboFab DVD Ripper and click the "Load Disc" button to select and load the anime DVD movies to the app. This program will automatically choose the main title of anime DVD disc. If you want to rip DVD to different episodes, you can tick each chapter instead of the whole DVD main title.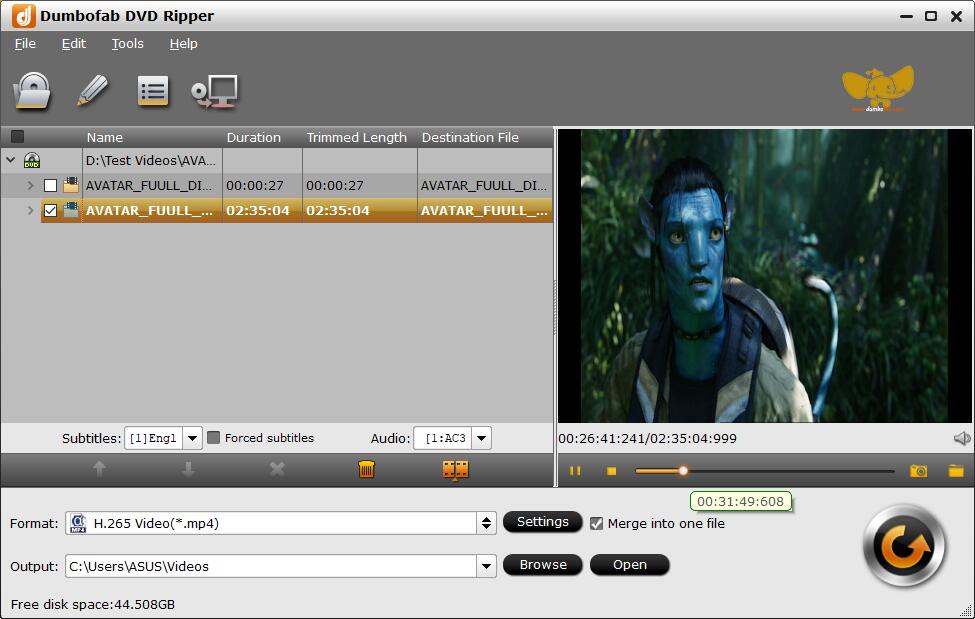 Tip: You can click on the dropdown list of "Subtitles" and "Audio" to select your needed subtitles and audio track.
Step 2. Choose the output format
Choose a desired output format profile. Basically, MP4 (h.264+aac) is recommended, as it strikes the best balance between file size and output quality which is an universal format supported by almost all cloud storage service and multimedia devices.
If you desire to play the converted anime DVDs on Apple TV, iPad, iPhone Samsung table, PS4, Xbox One and any of other portable device, you can choose directly an optimal preset for your device from the corresponding Device category.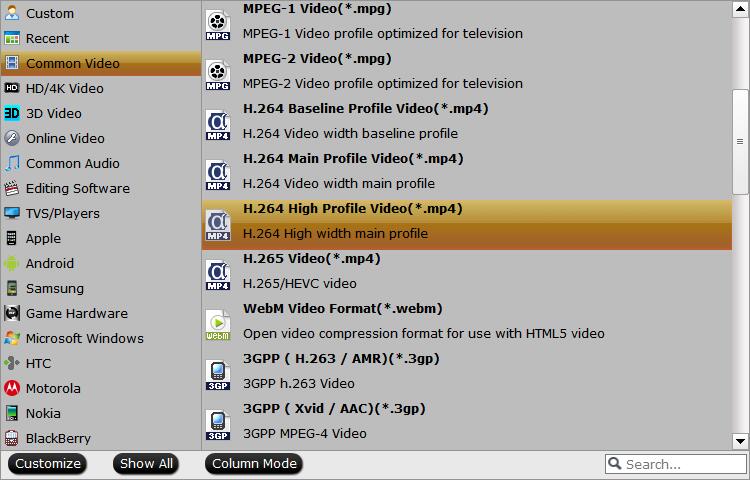 Tip: With the right settings you can retain the quality of the original DVD while also saving space. This is particularly helpful when streaming over your network, depending on your network quality. Simply click Settings bar and you can tweak the settings to your satisfaction and even save it as preset.
Step 3: Start to rip anime DVD
Click the "Convert" button under the preview window, and the DVD ripper will start the movie conversion. This will take a while, depends on the encoding settings, hardware of your PC and the length of the DVD file.